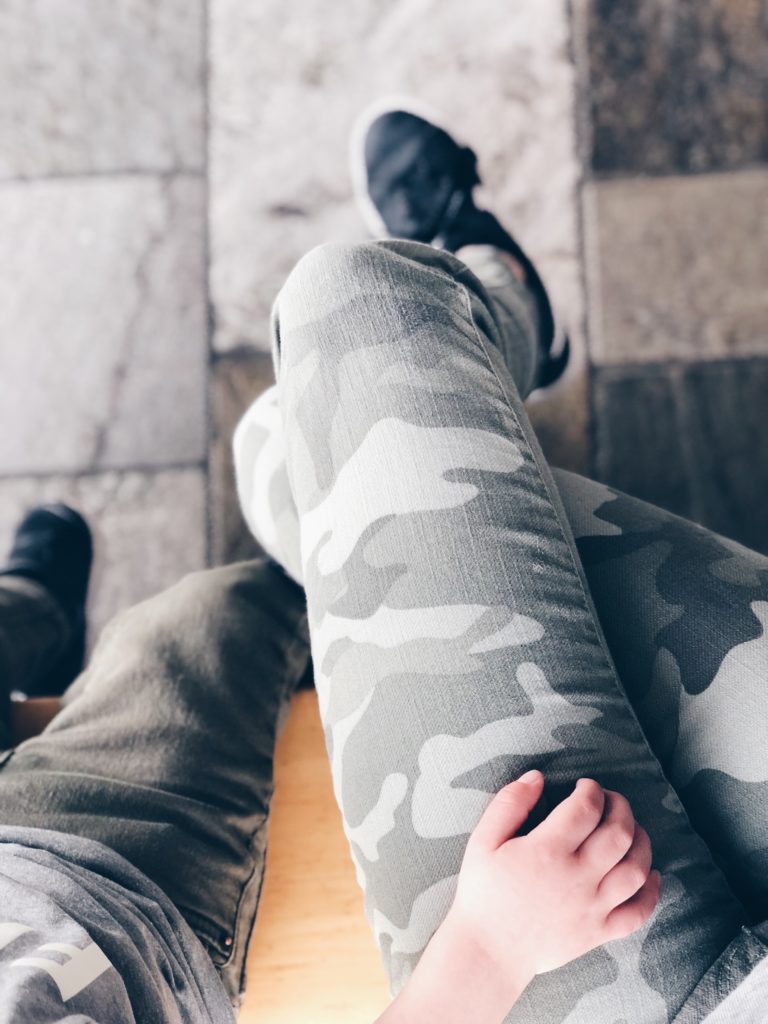 I bought these camouflage pants four years ago, but I just recently pulled them out of the back my closet and I can't stop wearing them. To me, camo has always felt like a neutral, with a little edge. Whether it's a jacket, pants or shirt, wearing camouflage adds a fun little edge to your wardrobe.
When it comes to a trend that I really like, I usually don't get rid of it when it stops being a regular in my closet. Sometime I luck out (like these camo pants) and the trend comes back around. But let's be honest, a lot of trends do have a repeat season, and if you find a piece that you like, it's worth hanging onto. I mean, how many of you had a velvet piece that you wished you would have held onto?! I know I do!
Now here's a little secret. Because these pants were on trend four to six years ago, they have a feature that was also trendy at the moment…zippers! You can't see them because my sweatshirt covers them, but if you were to see them, you would immediately think that looks like something from five years ago. Hahah, maybe not. But I do! Most pieces that you bring back will have some resemblance of back. But I think that's okay. I love the fact that rewearing a piece bought years ago more than my feelings of eeehh about the zippers. I really don't want to always been shopping and buying and adding more and more things to my life.
One of the things I struggle most with, here in the space, is the balance between not wanting to promote materialism or have someone feel discontent with their possessions after a post, but also wanting to share pieces and products that I've found, that are awesome. It's a balance ya'll.  And I hope that I do a good job of keeping things more towards the minimal side, with a  realistic closet and household, than I do towards the other side.
LOCATION | Monterey Bay Aquarium
OUTFIT DETAILS  | (old) Gap Camo Skinnies (current Gap option)  | Who What Wear Sweatshirt | Nike Sneakers
TOMBROS OUTFITS | Green Cat & Jack pants (similar in gray) | J.Crew Factory 'friyay' tee (not available online)  | Nike sneakers | Black Hi-top sneakers
I have always styled these camouflage pants with black, gray or white colors, partially because my pants have those cooler tons in them. Wear whatever your tones are saying. But what I love most about camo, is that it has enough edge to wear to play dates (or the aquarium) but I can totally be outside hiding from hiking with my boys. Haha, really though. There is some awesome camo and camo-inspired athletic gear out there!
When it comes to trends and even pieces of clothing that you like, when it stops being a piece that you regularly reach for, I would encourage you to store it somewhere. Even if that's for a few years. I'm not saying store everything – that is not what I'm saying. But those favorite pieces…YES!
Do you have anything, like my camo pants, that
you've saved and are now re-wearing?!?