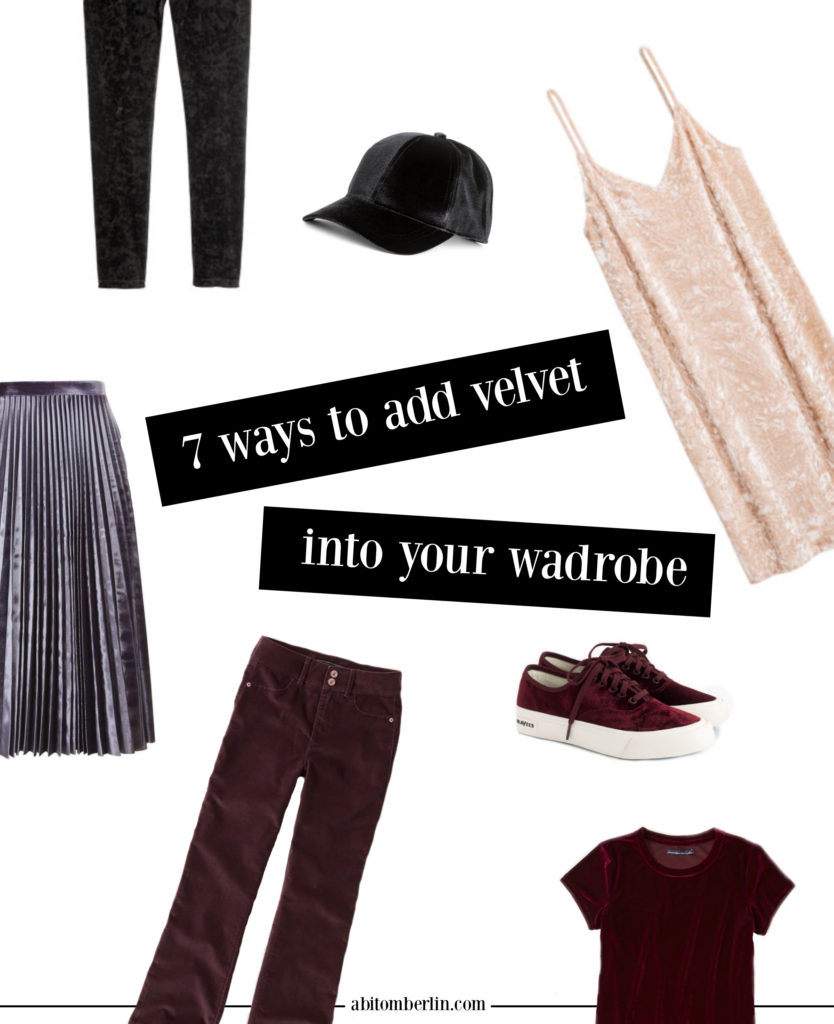 I've been looking through my closet lately, thinking about fall and winter and what I want to wear this season. And I'm super excited that velvet is back with a vengeance again! Here's the thing about velvet…. texture! Which means I can wear that outdoors and not obsess over every time one of my boys throws dirt my direction. Which happens daily.
I'm not recommending you buy ALL of these pieces! Even though that maroon top + skirt + sneakers is kinda vibing. But if you're looking to add some velvet to your wardrobe, I've got seven easy ways you can do that!
This post contains affiliate links. If you click on a link and/or buy something, I receive a small commission at no additional cost to you. All opinions are my own.
velvet leggings  | I think these might be the hardest piece to wear – and I can say that because I own a pair! The struggle real! You cann't just pair any sweater with velvet leggings; it just doesn't look right. The top needs to have the right texture to vibe with the texture of the velvet on your legs. BUT when you do find that right top, velvet leggings are a fun way to add a bit of velvet to your wardrobe. Find a pair here and here.
velvet sneakers  | You have to know that I love a good sneaker, so these were bound to be on the velvet short list. It helps that there are some really awesome options out there too.  these and these
velvet t-shirt |The one pictured isn't avaliable just I love the cut and color of this one and the cutout of this one.  Adding a velvet tee is probably one of the easiest ways to incorporate velvet into your wardrobe. Throw it on over jeans for a casual look.
velvet skirt | There are more options for a velvet skirt than a midi, accordion style – I just happen to love that style. The easiest way to dress an outfit like this down is by pairing it with a pair of sneaks. A few skirt options – here and here
cropped velvet flares  | Practically speaking, this option might only work for those of you in mild climates, because while velvet, they're still cropped. A mule or loafer would look amazing this cropped velvet flares like here.
velvet hat  | I wear a ball cap at least once a week and I usually have one when we're hiking or outdoors. Here's how you wear it : put it on with literally whatever you're wearing. here and here
velvet slip dress  | I envisions this being worn like this or like this! And clearly you can dress it up by adding heels and skipping the top underneath. #datenight
---
While most of you can probably start wearing velvet mid-late fall, for me, September and October are the summer months for the Monterey peninsula. So it will probably be a little closet to winter before I start putting velvet into constant rotation, but I might just suffer for the cause…. especially if it's with a velvet tee or those sneakers (that I've been eyeing for forever)!