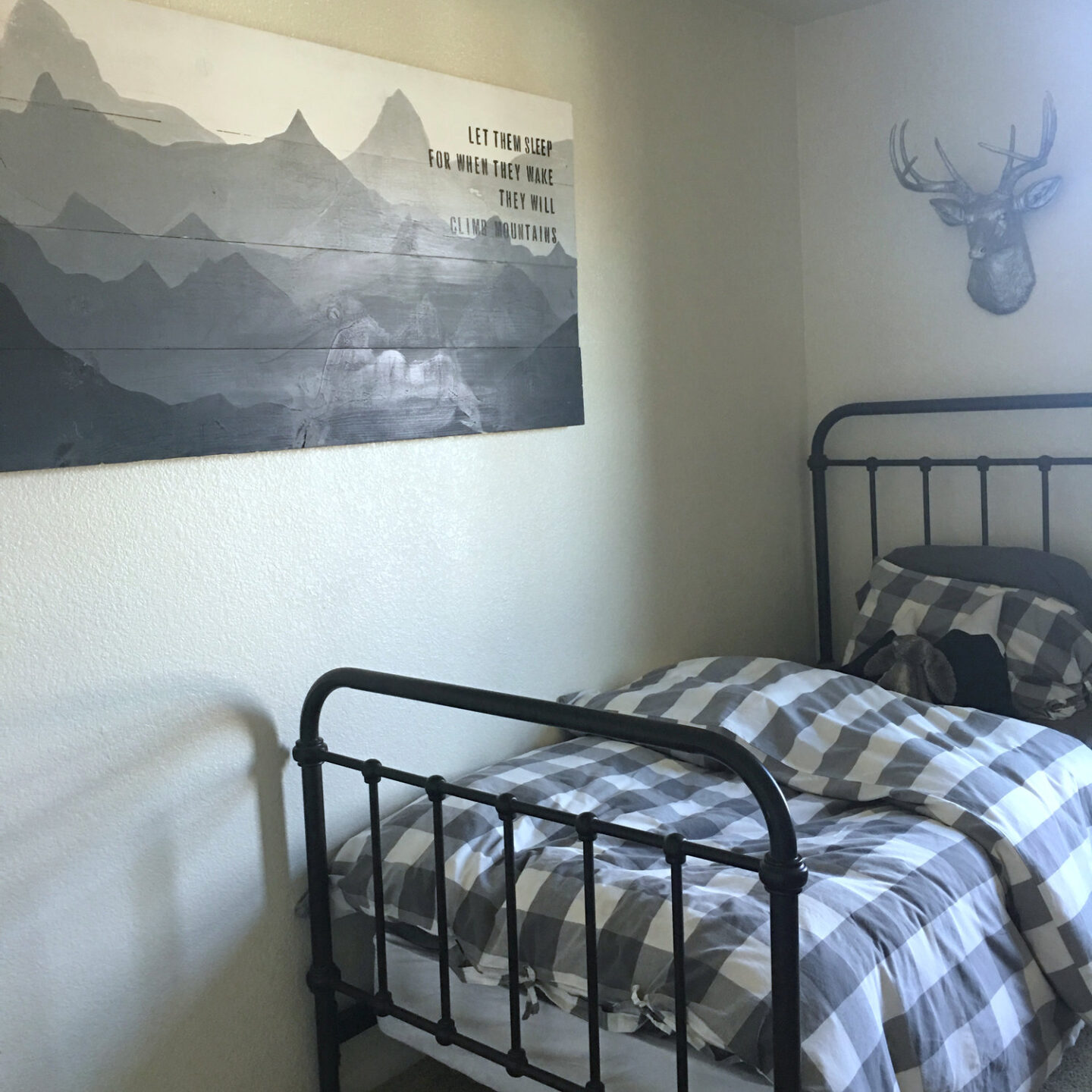 When I was thinking of decor for the boy's room, before we moved, I knew I wanted something like this on their walls. And then I found out I couldn't put any paint on the walls, but I still wanted a mountain wall. So nailed a few boards together and decided to paint my mountain scene on that instead.
I would give you a step-by-step, but there really isn't one. I free handed the ridge line while looking at some of the Pinterest inspiration I found. And I started with white paint and added more black paint to last paint pile to make the different shades of gray. The only hindesight is I probably should have reserved a bit of each shade to have. Because there is no way I can replicate each of those colors.
The saying was always going to be a part of my scene. Although I think it would look pretty cool painted/stenciled directly onto the wall, I'm not upset with how it turned out. Even if it's a little crooked. It adds to the charm, right?
I always loved the saying "Let him/her sleep, for when he/she wakes, he/she will move mountains." But it seemed more fitting for my boy's room to adjust the saying slightly. I mean, they are adventurers. And both boys, even Brecken who can't walk yet, climbs everything. Including stairs…
The boy's room isn't complete. It's missing a wool rug or two, a basket to collect all the toys that seem to make their way up to their room, and a few more boho touches. Because I'm all about the boho these days. But I do love seeing some mountains in their room.
I am planning on going back over the boards with a sander, make it look very distressed. And I keep toying with the idea of building some sort of frame to go around it. Any thoughts?