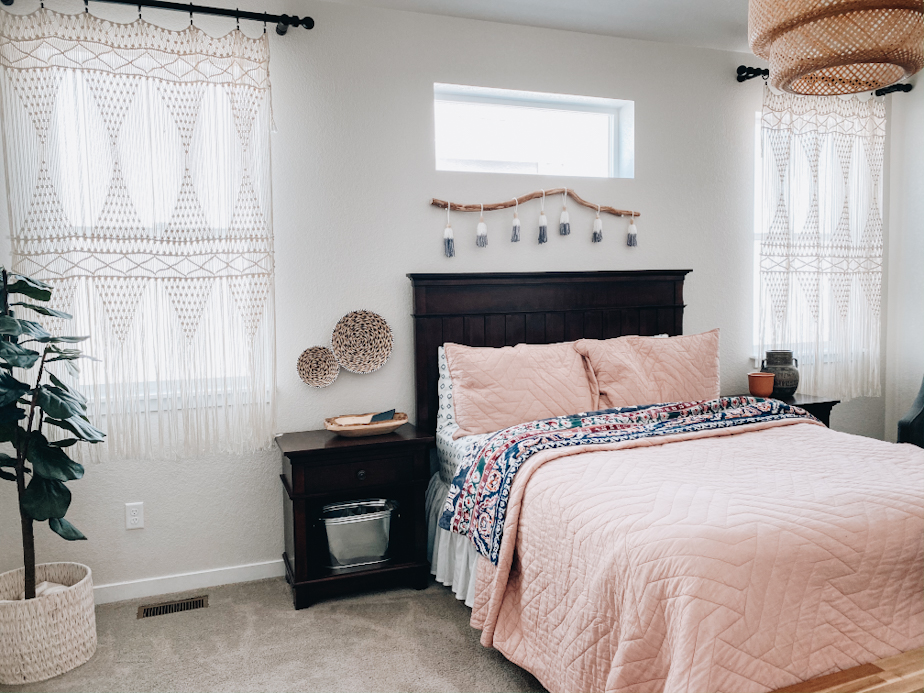 Since we're (probably) going to be moving sometime this….year (honestly, who knows at this point), I thought I would share my bedroom. I've definitely snapped photos in the room, but never the whole room because it's honestly been one of the most frustrating spaces for me. I can't tell you the number of times that I've rearranged the furniture, and what was hung on the walls, and even where the bed was placed. If we were getting to stay in the house longer, I think I would have done a bit more with this space… think.
One of the things that's hard about constantly moving, is each living space is different. Some owner's bedrooms we've been able to fit our five-piece bedroom set, plus a couch and still have space left over. Other rooms we've barely fit our furniture into it. This room definitely falls into the "more space" categories, but also, I've never had a bedroom with so much wall space!
Our main living area, because of the layout and windows, has very little wall space. Then, when you walk into the master, it's ALL wall space plus high ceilings. We also only have one wall that has both the door into the room and the opening to the bathroom and closet.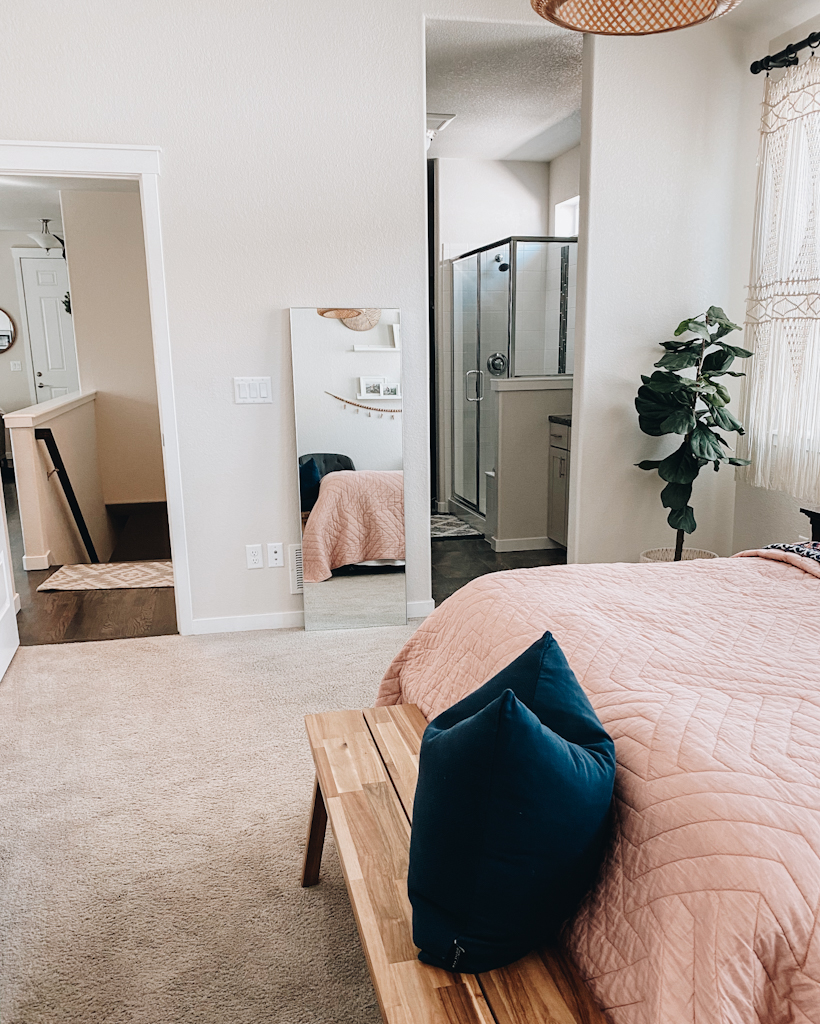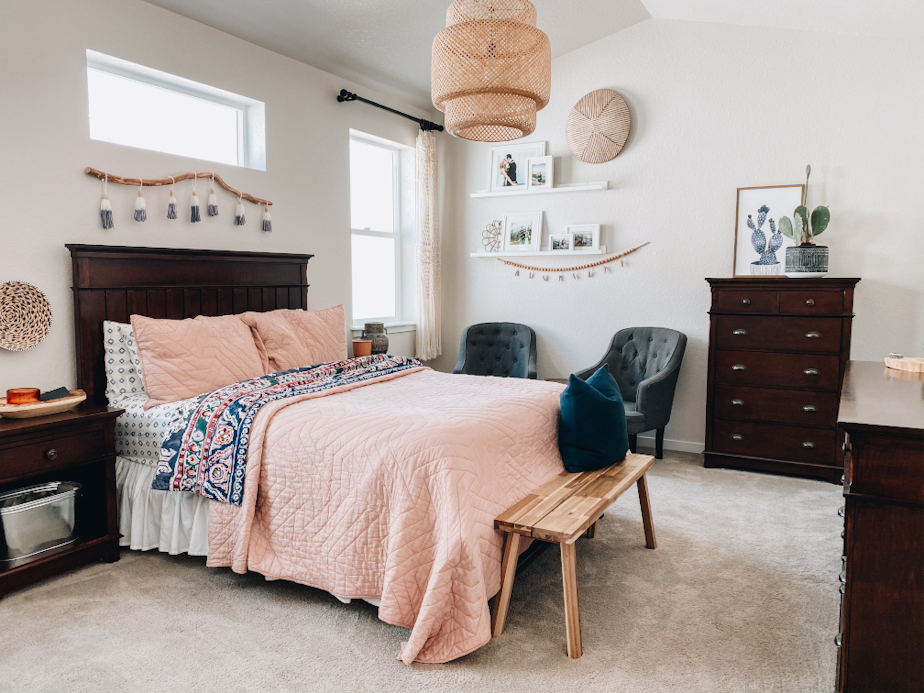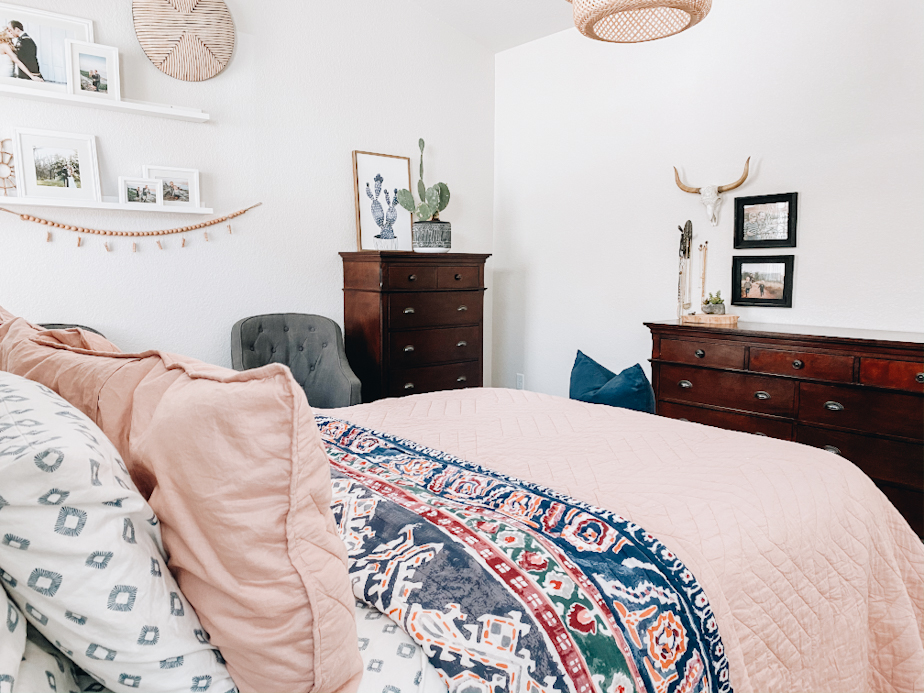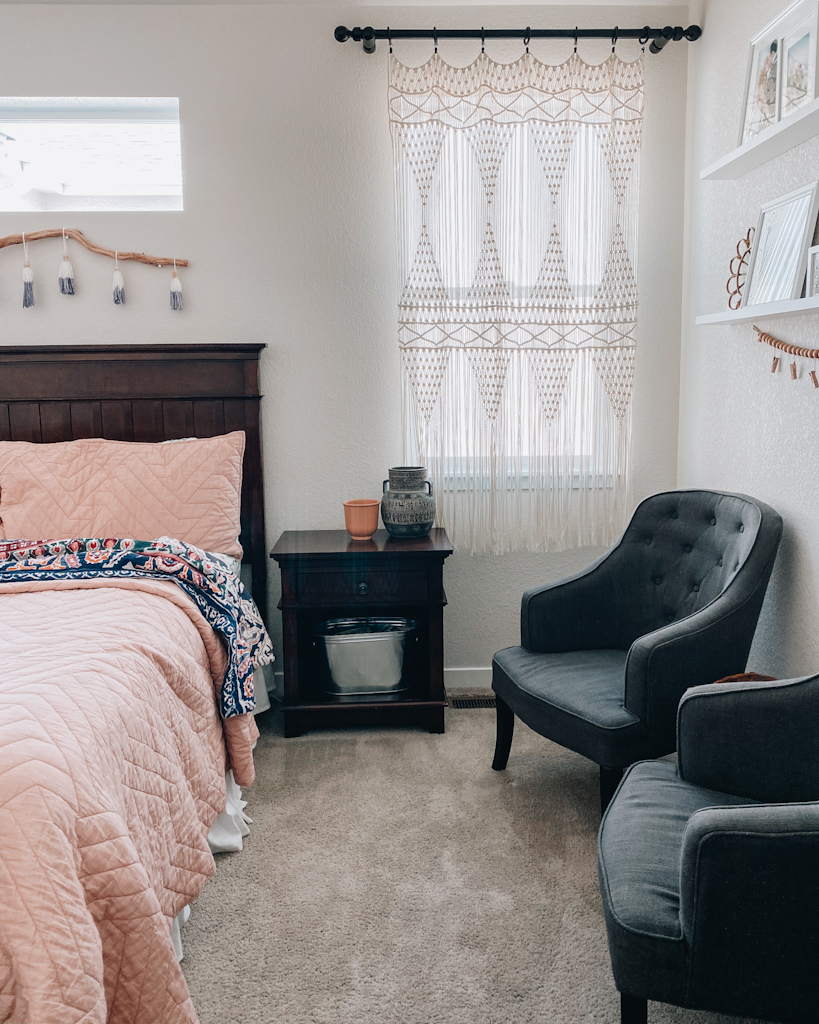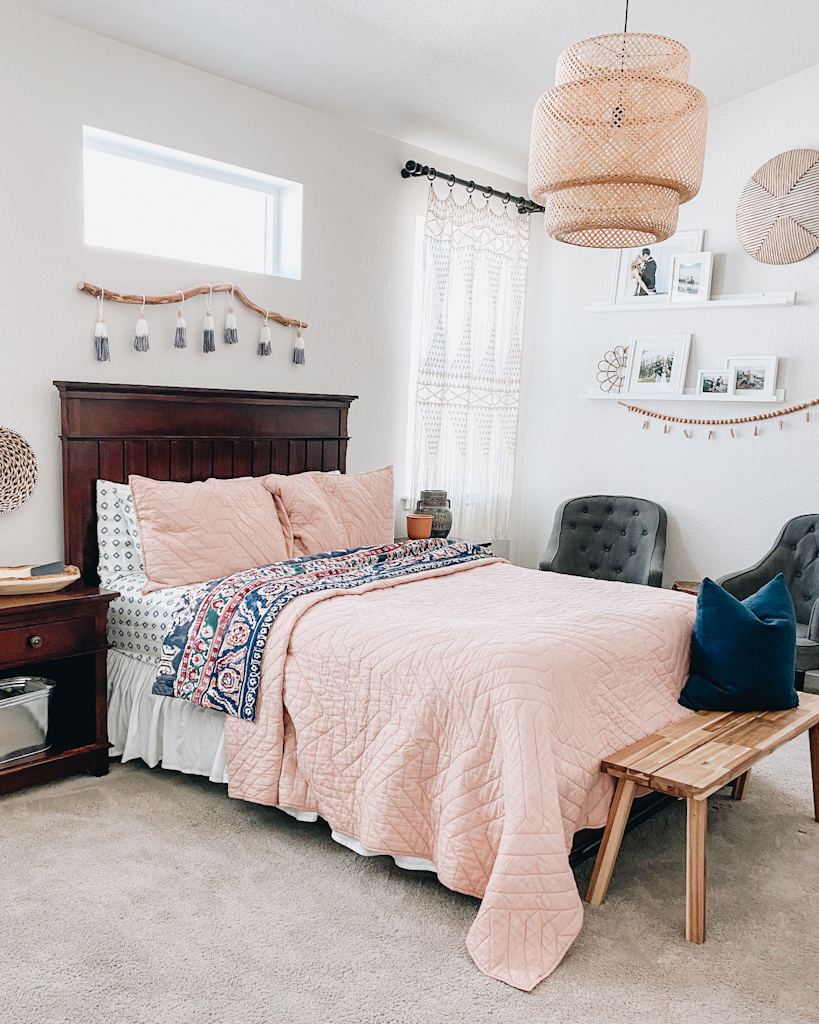 THINGS I LOVE ABOUT THIS ROOM
colorful Anthropologie quilt  – I bought this quilt for my birthday several years ago, and it's my favorite piece of bedding. While I still don't mind the colors, it's the fabric of this quilt that makes it my favorite.
IKEA bench – I have two of these benches around the house. The color is perfect, and I love the design.
IKEA light fixture – We have this same picture about our dining table and I still love it. Plus, it was pretty inexpensive. I totally have plans of adding this light in our next house.
macrame curtains – I bought these to shade our outside seating area, and they were awesome for that! But when winter rolled in, I bought them inside and tried them up in our master bedroom. The cozy vibe that they offer is perfection. I'm not sure I'll hang them back up outside.
pops of terra cotta + blush – These colors are also found in my Anthropologie quilt, so it was easy to bring them into the room. Plus, I'm a big fan of these colors, especially the terra cotta.
THINGS I WOULD LOVE TO CHANGE
all the furniture – Hah! But for real. This is the first bedroom set we purchase ten year ago, and it's time to have something new. I'm still searching for exactly what I want, but it 100% will be lighter. Nothing is broken in this five piece set, and really would make for the perfect makeover. So if you're local and wanna buy it….
the blush quilt  – This quilt is from West Elm, and I've never had bedding that has pilled so much! The color is perfect, but the quality of this quilt is sorely lacking. I'm also torn if I should replace the second quilt with a duvet… I have a strong frustration with duvets + duvet covers, and I'm a hot sleeper. But my husband isn't and probably would prefer something more than just a thin quilt to sleep with.
the navy accents – I know the Anthro quilt has navy in it, but I've begun to wish that I would have chosen blacks instead of navys. This is the only room in my house that has navy – everything else is grays and blacks. So keeping the same color schemes throughout the house would help, especially when we move and end up swapping pieces for different rooms.
That is our current bedroom! I'm still trying to piece together what I want our bedroom refresh to look like – the biggest piece being what style of bed frame do I want? But I guess I have the time!