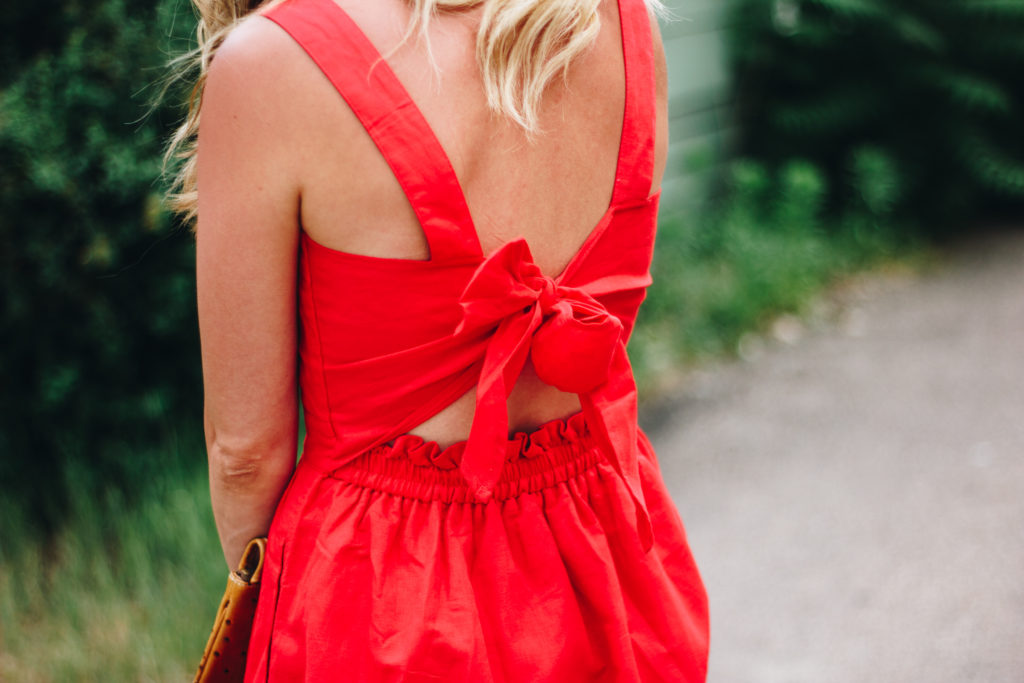 If there's a color that I've always loved, it's red. I'm not totally sure why, because as far as bright colors, this is one of them, and I usually shy away from c o l o r, but red seems to be the exception. I don't know if it's because I think it's a super patriotic color (#militaryspouse) or because I think it's a happy color – no matter why, I'm a fan of red.  So when I spotted this dress at J.Crew Factory, I was immediately drawn to the color, which was that perfect orange-y red, but it was the details that sold me on the dress.
| | DRESS – J.CREW FACTORY | | PURSE – VINTAGE DOONEY & BOURKE | |  SANDALS – TARGET | | SUNGLASSES – MADEWELL, SIMILAR | |
As you can see, I totally styled the dress down with flat sandals and a simple necklace for a summer date night (pics from our date are below!), but the dress would also be perfect for a summer wedding or event. Just add heels or wedges and more of a statement necklace or earrings. The dress also comes in a light blue seersucker version, which might be the perfect dress if you're heading to Martha's Vineyard or somewhere on the New England coast.
A note about wearing the dress – Dad, stop reading – I didn't wear a bra with it because of the tie in the back. Because of the fit, you are actually able to wear a bra, so if you need more support than you get from the tightness of the dress, I would use something like this. But don't be intimidated by the back! The dress really does give you a bit more support than you might think.
This is most definitely my favorite summer dress! Partly because of the color, partly because of the design. But it was a fun, easy to wear dress that I know you'll see more than once on me this summer.
Also. Yup, that's a legit tan line you saw…. I'm working on that.
—————————
LOCATION  |  Coquettes Bistro + Iron Bird Brewery