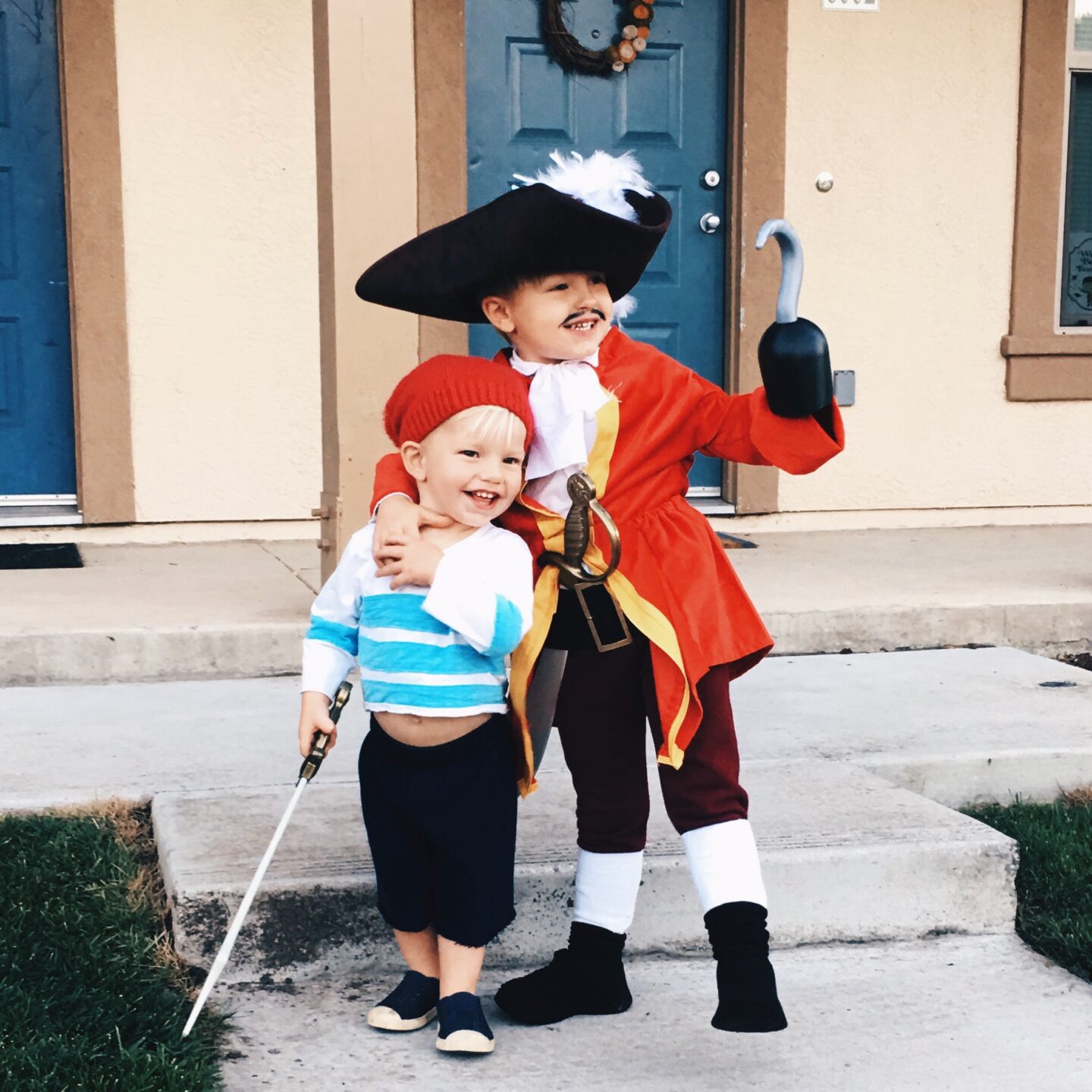 So far, for the three years that I've had kiddos for Halloween, I've made their costumes! The first two years it was pretty simple pieces, or add ons that I made to make a costume – 2016, 2015 and 2014. Brecken even continued with wearing the "fox" has his first Halloween costume too!
So when this year rolled around, I thought the sky is the limit! I can make anything! And three trips to the craft store, 3 yards of red velvet later (it only suppose to take 1 yard to make Hook's coat) and literally 10 hours spent in front of a sewing machine….
I did make something that resembles Captain Hook and Mr. Smee!
I used this tutorial for Captain Hook, but clearly I had trouble. Mainly with the sleeves….but I'm not sure I would recommend this tutorial. Maybe just buy a pattern? I took a pair of maroon sweatpants and sewed up the seam to make them a bit more snug, more fitting to what Captain Hook wears. And his boots are just black socks I bought to go over his shoes!
For Mr. Smee, I just cut up a blue shirt for the stripes and sewed them onto a white shirt that I had deconstructed. Then I sewed the shirt back together again. I took up the front of the shirt to ensure Breck's belly would stick out in classic Mr. Smee fashion. And I cut up a pair of blue sweatpants for his pants.
The adorable Peter Pan is one of our good friends, and his mom was the smartest and purchased his outfit off of Etsy.

My boys L O V E D their costumes! And that totally made it all worth it.
But next year, I might stick to embellishing clothes instead of trying to make something from scratch…..but we'll see…