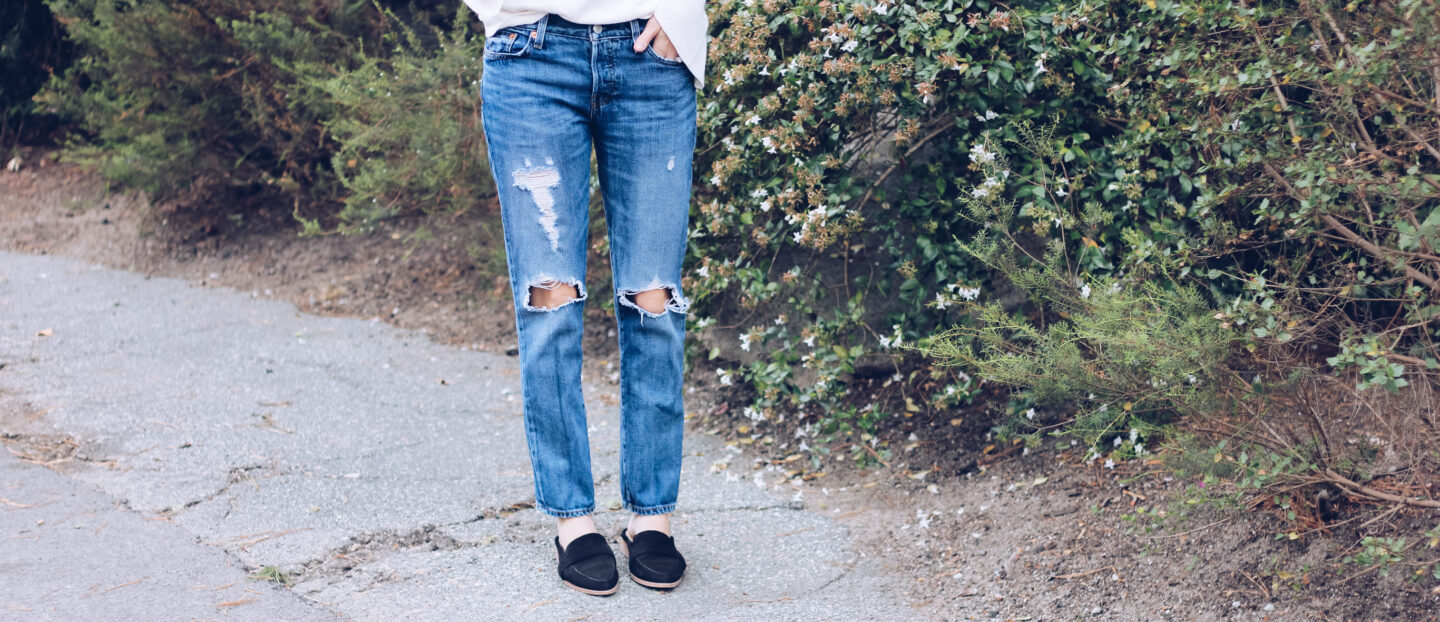 I'm back with my *still* favorite pair of jeans and I have them styled a little differently today. Not only am I wear a more fitted sweater, but I'm rocking these jeans without the cuff. If you were to search boyfriend jeans in Pinterest, you would see that most of the styling has them cuffed. And I wear my jeans that way 90% of the time – because it just looks good! But I wanted to style them without the cuff, and I'm totally digging the dressier vibe.
This post contains affiliate links. If you click on a link and/or buy something, I receive a small commission at no additional cost to you. All opinions are my own.
| jeans | sweater | mules | bag – old Dooney & Bourke |
It's the cut of the mule that allows these jeans to work un-cuffed. There's gotta be a little skin showing somewhere! My favorite part about this outfit is that because of the no cuff, it IS a little dressier. Still ripped jeans but the mules, the sweater and the no cuff all give this outfit a tad bit dressier vibe than is usually found with boyfriend jeans.
You could totally add some height through a heel, just make sure there's still some skin peeking out somewhere around your foot or ankle. I still haven't been able to pull off this look but it's totally an option! Maybe with boots like these? Next time I'm in Target with these jeans on, I'll try them on together and see what I think!
Anytime you cuff jeans, you're automatically upping the casual factor. So to create the opposite effect, go with no cuff! Even if you're wearing boyfriend jeans.