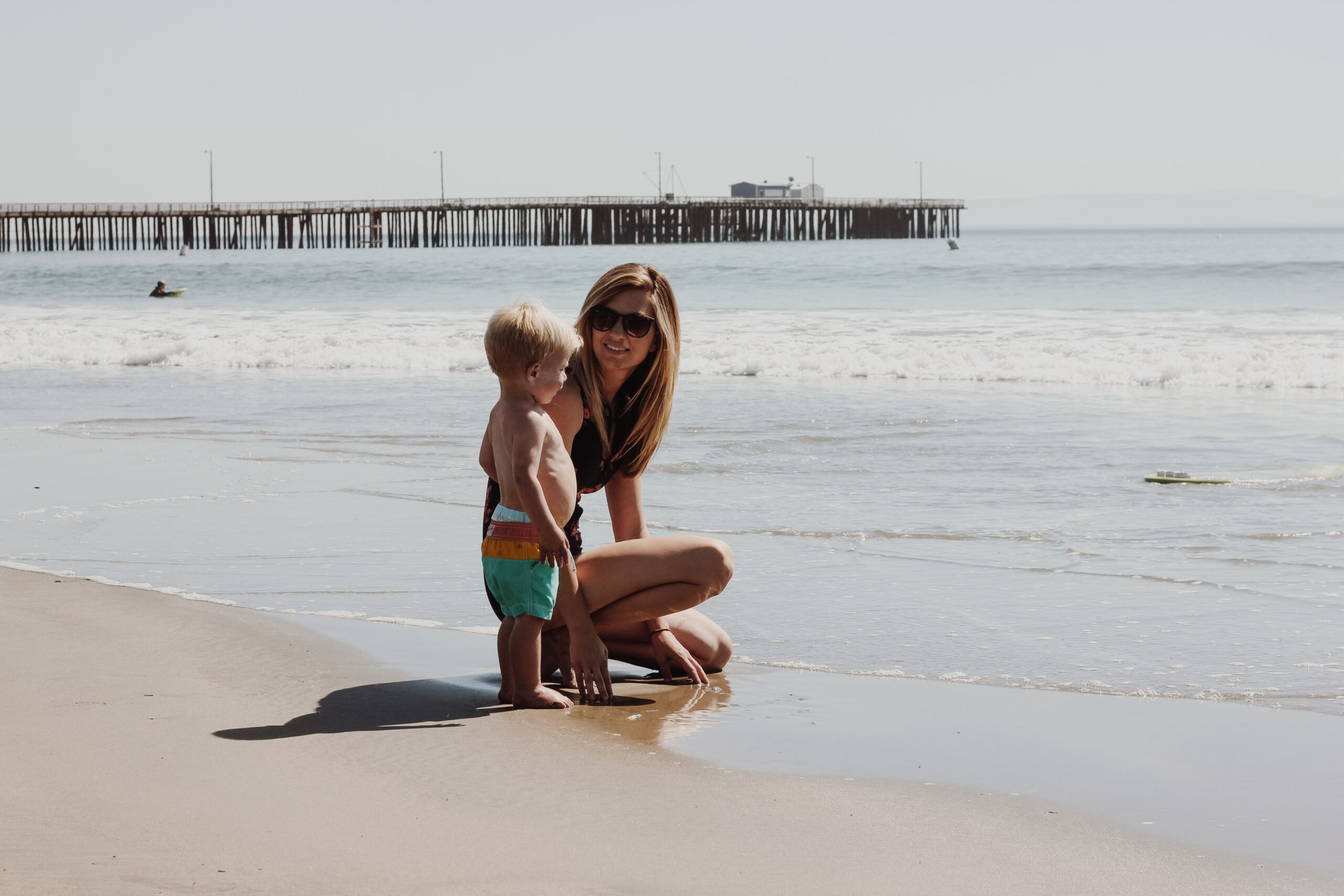 A two and a half hour road trip from Monterey will land you at Avila Beach! Just outside of San Luis Obispo, it's a tiny little beach community and just where we go when we want a real beach experience. I say real beach because it's hot enough there to wear a swimsuit… We haven't hit all the spots there, yet, but we do have a few of our favorites.
our itinerary:  park  |  lunch  |  beach  |  farm
park | 
My boys love the park that's right outside the Central Coast Aquarium. We haven't been inside the aquarium, mainly because we're members of the Monterey Bay Aquarium, but it looks like a neat little indoor activity! As soon as we get to the park, Ajax immediately commandeers the pirate ship and doesn't leave…
Honestly any park is legit in my boys eyes, but the pirate ship is a nice touch that not a lot of parks have. Plus it right next to the beach.
lunch | 
We've eaten here a few times and love it. It's easy (with the kiddos) and delicious. A place that serves a pb and j and a draft IPA… yes. Yes!
There are several restaurants right by the water, and with outdoor seating. But anyone under 21 will have a hard time getting in the gate. And if you're traveling sans kiddos, there are plenty of wine tasting room around!
beach |
One of the best things about Avila Beach is there is a great little shallow spot for the kiddos to play. It's under a bridge, and I know that sounds a little shady, but there really is shade, on a beach! It's a neat little spot next to the ocean.
The beach itself is pretty great too.
swimsuit c/o Cleo Madison  | sunglasses
farm |
Avila Valley Farm is adorable. A maze, hay ride, all the animals – which is Brecken's new favorite word – and all the pumpkins you could ever possibly want. Not to mention real lemonade (or tea, if you like that) ice cream, BBQ, taffy… you know, all the foods you shouldn't eat but want too.
We haven't explored SLO yet, mainly because after a day of the park, beach and the farm we're wiped out. But I'd welcome any tips for next time!! Even tips for Pismo Beach!