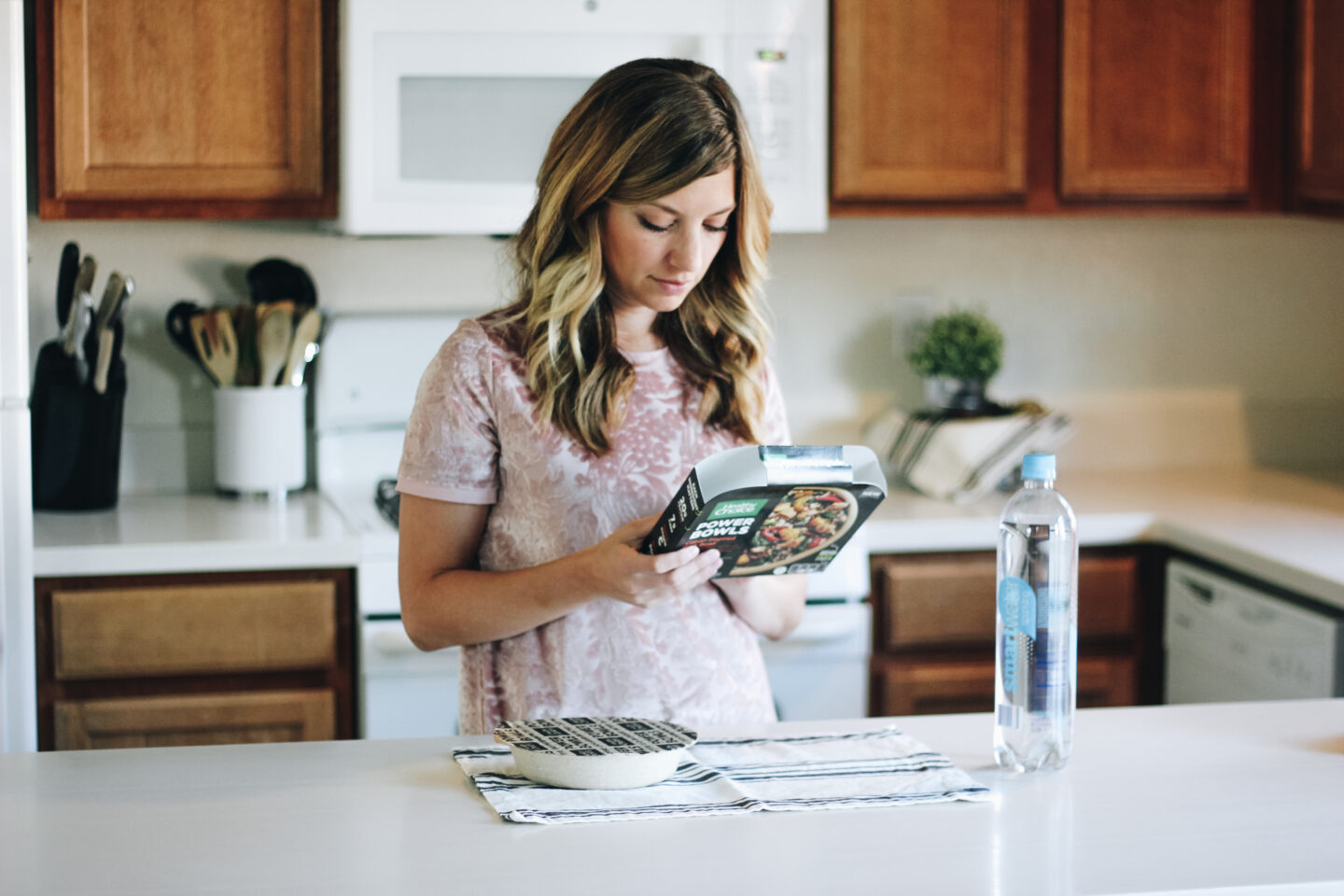 This post has been compensated by Collective Bias, INC., The Coca-Cola Company, and Conagra Brands. All opinions are mine alone. #PowerfullySmart #CollectiveBias
When it comes it comes to how I eat, I want it to be healthy…and easy. Oh easy! Because while I do love to cook, I don't want my days to revolved around prepping and cooking what I'm going to eat. I'm fortunate enough to not have any dietary restricitons in what I eat, but I also try to NOT eat meals made up of gummy bears. Because, I'm an adult…
I've gotten the planning of my meals down pat, and usually, they are made up from staples that I keep on hand all the time. When I make up the menu, I usually focus on breakfast and dinner because for whatever reason, lunch just gets the shaft when to planning. Also, I apparently have this rule about only cooking for two meals…not three.
MY HEALTHY, EASY BREAKFAST
LOCATION   | Foggy land. Not totally present, but awake enough to scramble some eggs at my stove.
WHAT I EAT | EGGS! And coffee.
It's all about the eggs! For whatever reason, I have never gotten tired of eggs. And while I love a good dippy egg*, my favorite way to eat them is a quick and easy breakfast burrito. Scrambled eggs, shredded sharp cheddar cheese and salsa all wrapped up in a flour tortilla.
*I am from PA and we call our over easy eggs 'dippy eggs'. You know, because you dip your toast in your egg…..yeah, now you get it!
MY HEALTHY, EASY LUNCH
LOCATION   | About to head out the door, and totally have zero time to cook anything!
WHAT I EAT | Healthy Choice® Power Bowls + smartwater
Remember when I said I'll only cook for two meals, not three. Truth!!  But honestly, lunch is at the same time that I am about to hop in the car to go pick up my boys from preschool. So I could step away from the article or post I was working on early, in order to cook myself a meal, or I could continue to do what I've been doing lately, which is grab a Healthy Choice® Power Bowls and smartwater.
Because it's healthy, each Healthy Choice® Power Bowl are made with an intentional balance of vegetables, proteins, and whole grains. And easy; I didn't cook it. It took the microwave four minutes to deliver this combination of bold flavors and simple ingredients into my hands. The photos show me with the Cuban-Inspired Pork Bowl. I loved the flavor the whole bowl has and those peppers!
Also, because coffee isn't water, and I need to drink water to stay healthy, I grab a smartwater to go with my meal. smartwater is vapor-distilled for purity, inspired by the clouds, and has just the right amount of electrolytes for a uniquely clean taste. Also, I'm a sucker for anything sparkling, and the sparkling smartwater is also delicious!
And bonus! You can earn .75 cash back when you purchase Healthy Choice® Power Bowls at Walmart (any variety – any size).
MY HEALTHY, EASY DINNER
LOCATION   | Tired. The work-at-home mom gig and the twenty-seven trips up and down the stairs to grab the needed items for my kiddos to take their naps that afternoon wore me out.
WHAT I EAT |  A one pan sausage and veggie dinner.
One of my favorite ways to cook a healthy, easy dinner is by using a baking sheet to roast all of the ingredients. It requires little prepping, the cooking is all done at once, and it's always a big hit! A favorite one pan recipe is combining smoked sausage, brussel sprouts, baby potatoes and apples with ranch seasonings, olive oil and salt. Cook at 400 degrees until the potatoes are soft, about 20 minutes.
If you want to copy my easy, healthy meals – perfect for those days when you're just on the go – I've listed below all the items you would need.
eggs
sharp cheddar cheese
flour torilla
salsa
coffee
Healthy Choice® Power Bowls
smartwater
smoked sausage
brussel sprouts
apple
baby potatoes
ranch seasoning
olive oil
salt
You can find all of these items, including the Healthy Choice® Power Bowls and smartwater at Walmart. And don't forget, you can earn .75 cash back when you purchase Healthy Choice® Power Bowls at Walmart (any variety – any size).