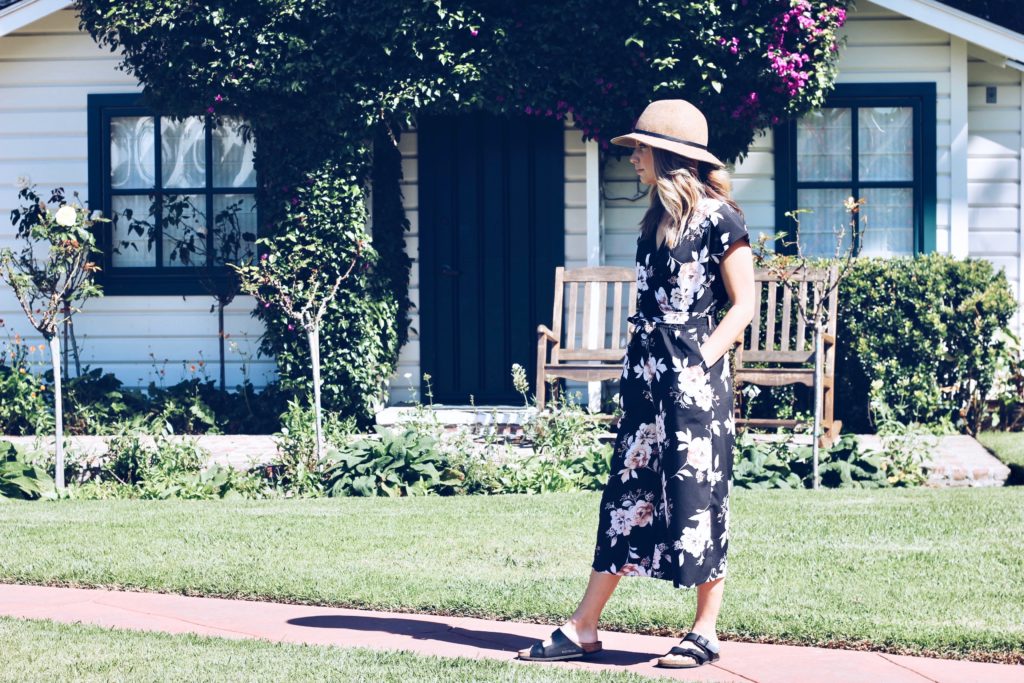 I have another repeat offender! It should look a little familiar because this exact jumpsuit was on my fall favorites list! As soon as it showed up, I immediately tried it one and loved it. And now, falling into the jumpsuit connoisseur category, I think a patterned jumpsuit is much easier to style. Not this floral might not be your thing, but a stripe or even a polk-a-dot would be easier to mix it up (and throw something on top!) than a solid color. Also, what I love about this pattern is it's not overtly one season. And while you might not be able to wear it in the winter because have you actual winter, I don't. So it will probably be around all the days.
Let's talk fabric for a second.
This jumpsuit is practically all polyester (95%). If that fabric bothers you or you don't like the feel of polyester, you won't like this jumpsuit. I however, love that it resists a wrinkle so I can wear it around all day and not look like a crumpled mess at the end of the day. For comparison, my black culottes jumpsuit is rayon/viscose and if you look at it, it will wrinkle. And my black tapered leg jumpsuit is cotton + polyester, which is a great mix! It's just a tad heavier than a straight polyester.
This post contains affiliate links. If you click on a link and/or buy something, I receive a small commission at no additional cost to you. All opinions are my own.
one | jumpsuit with booties
Any type of heel will always look good on a mid length. These are my current favorite heels, but you could practically pair any heels with this and it would look awesome. This look is probably the least worn, just because I don't wear heels on a regular basis.
---
two
| jumpsuit with birks and a hat
This is my favorite look out of the three! Because I'm wearing birks, obvi. And I love the addition of the hat! You could just as easily wear a pair of slides or strappy sandals and it would still have the same vibe.
---
three | jumpsuit with sneakers and a jean jacket
And of course, sneakers! The most practical for me because I'm 100% running after Brecken all the minutes of the day. He's learn to copy my evil laugh and I don't know weather to be proud or scared. When I mentioned earlier that a pattern jumpsuit gives you more options with what to throw over top, I mean it! I tried on like every cardigan that I own and they all worked because I wasn't working with two solid colors. Patterns!! Patterns!!
jumpsuit | sneakers | denim jacket (super similar)
Remember….wearing a jumpsuit is just like wearing a dress, only better!