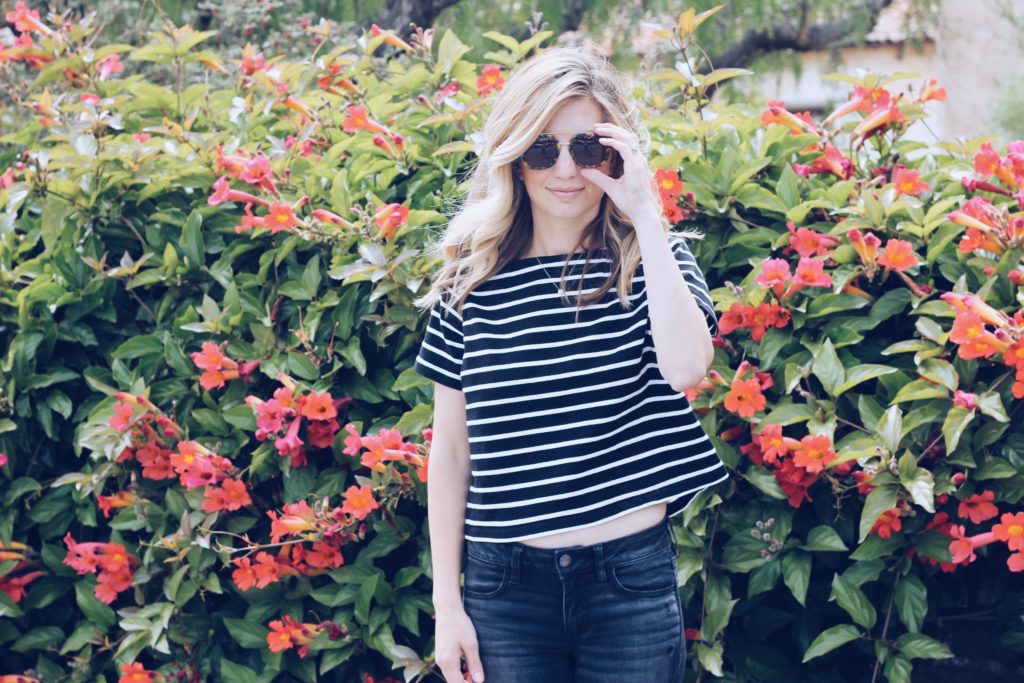 I  L O V E  me some stripes! I'm sure that's old news by now…but what might be shocking is that I'm wearing a crop top.
Okay, that's not really that shocking either if you know me. And even though mama could use a few more Tone It Up sessions (give me back my abs!) I still am okay with this crop top because of how boxy it is! But truly, if I had a pair of high waisted anything on, you would barely see even a sliver of skin. Remember that next time you think that a crop top might not be for you. It's a crop top, not necessarily a belly shirt…
This is practically my go-to summer wear…which here where the weather is the same year round…so it's probably my fall, winter and spring go-to too. But this is currently summer for the rest of everyone, so it's a summer go-to look. Plus, if you swapped my ripped jeans for a pair of high-waisted denim shorts it would be a true summer outfit.
overall thoughts
Honestly, I think I prefer this top with actual high waisted pants, just purely for the coverage basis. But since I currently only have mid-rise black jeans, this is what it is. I do, however, LOVE this shirt. It's that boxy fit that make me love the shortness of the shirt. I don't think I would wear any other version of a crop top, because just no…
| sunglasses | shirt | jeans | sandals |
Similar style shirts |  long sleeve | floral embroidered | off-the-shoulder | bell sleeve |
high rise denim | here | here |
This post contains affiliate links.