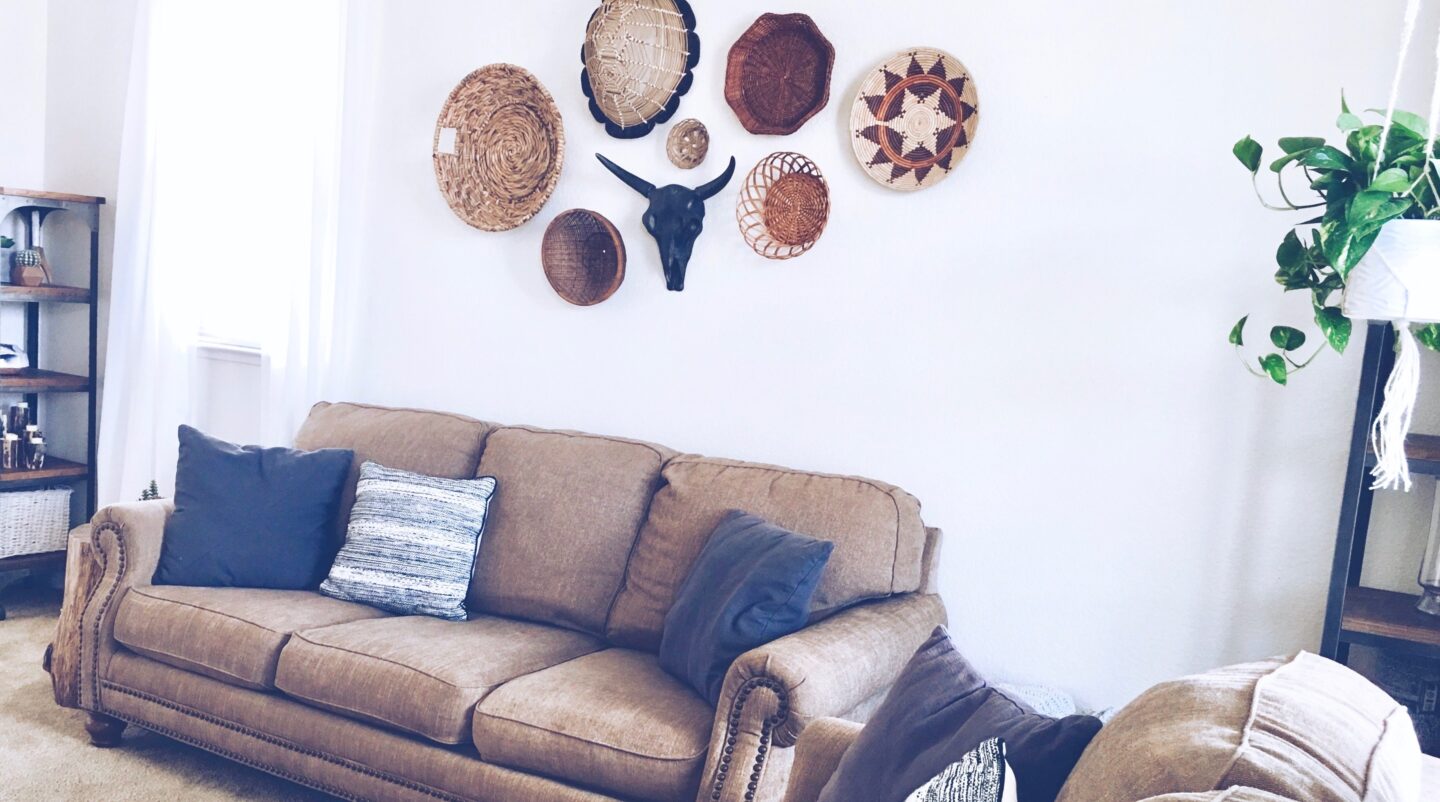 I used to rearrange my furniture every couple of months; but after living in six different houses, I've gotten a lot better at knowing the one way my furniture will fit into the house. The one way. I've often wondered with all of the houses I've lived in, if a designer would ever have a suggestion that I haven't thought of – without buying new furniture. If I bought new furniture every time I moved…. well, that would be fun. And I would be broke.
Because I move, I have learned that instead of buying pieces for specific room, I need to try to look for pieces that could have multiple functions and most importantly fit into multiple rooms. For example, I bought these two square wood and metal shelves for a specific room in the first house I lived in in Colorado. They were literally the perfect fit, framing a couch – also bought for that specific room. And then I moved and both houses I've lived in after, it has been a struggle to figure out how to use them. I still have trouble with what to put on them. Look closely, you'll see.  I put them up for sale here, and when I moved them to take photos of them, I like where they landed, so I kept them. Plus my husband told me that if I sell them we would have literally no furniture left in our living room…he had a point.
This post contains affiliate links.
STILL TO ADD  
PRINTS FOR FRAMES | I'm thinking a buffalo or horse print. I have a cactus print that will probably go up there, and maybe another print of mine from Yosemite.
A RUG | This space NEEDS a rug! I've found the perfect one, it's just not in the budget…yet.
A COFFEE TABLE | A coffee table would bring a little depth to the room too, but I just can't decided on what I want. Especially since the plan is to get new couches next move. I don't want to purchase a coffee table that limits my couches selection. With the exception of wanting somewhere to put my food, and rest my feet, I don't really miss not having a coffee table. And the boys love the open space.
A POOF OR TWO | I'm not totally sure about this one, but I think I'd would like the coziness of having something like this around.
NEW COUCHES | Hahaha, but for real. Not kidding. But not until the next move. It's happening husband!
---
And that's the California living room. Well for now. It is always changing, at least minimally. I'm in the middle of working on a new wall hanging, and I might like this one better than the first. The plan is to put the one I'm currently working on outside, but if I really like it… I think a rug will drastically add to the vibe, maybe a poof or two?