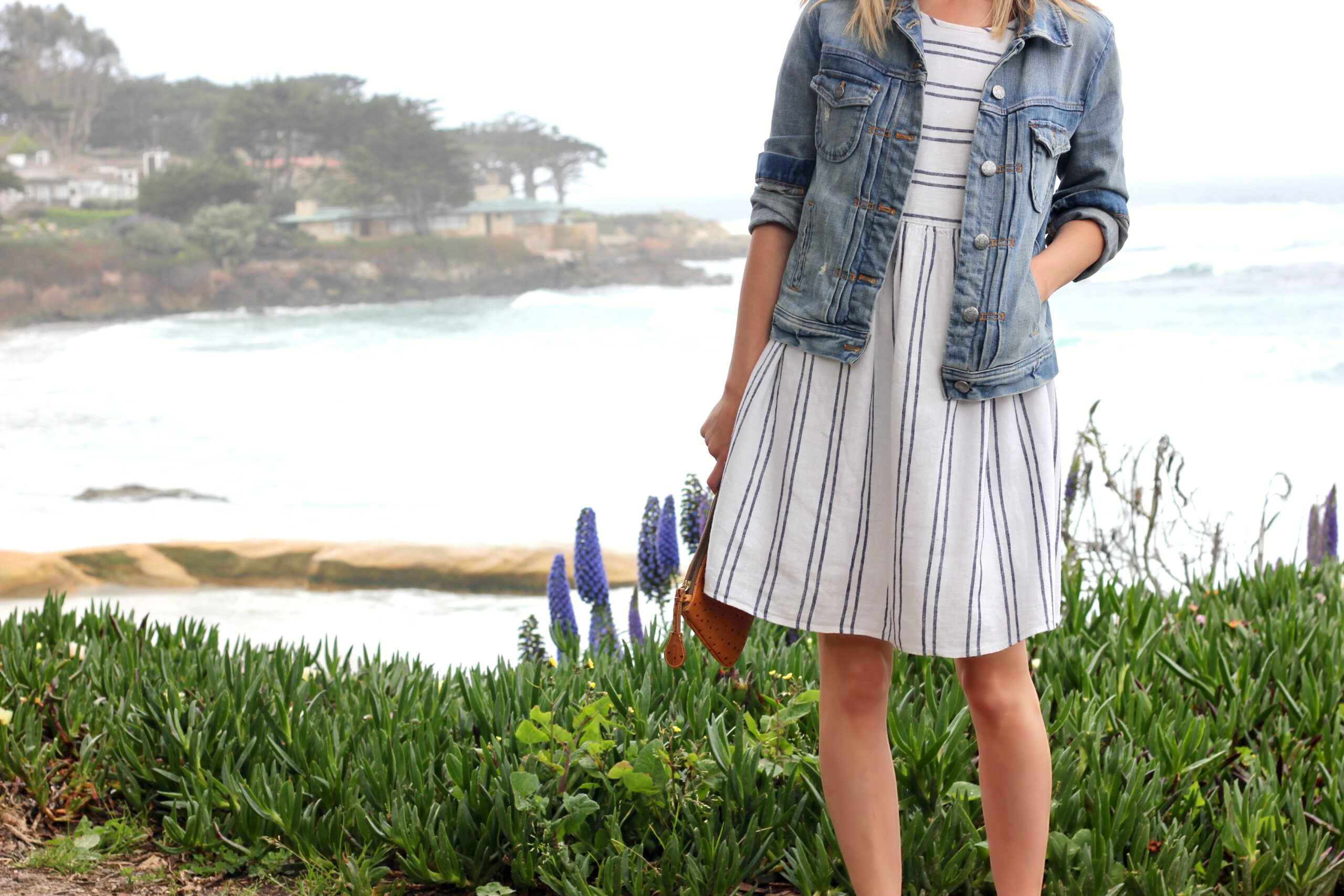 I bought an Easter dress that year.
One of my girlfriends kept encouraging me to try out the shift dress trend, and I wasn't totally sure. I have a petite build and generally looked like I'm swimming in fabric when wearing anything without definition. But to be honest, I wasn't totally sure about wearing a fitted dress anyway, because I just wasn't a current fan of my body.
It had been a little over two months since I heard that my pregnancy was another ectopic pregnancy. And about a month since my husband had hip surgery, landing him home with crutches for several weeks. Life felt dark and hard and unfair, and I was pretty angry that my body had failed, again. I also hated seeing my husband, my strong, unshakeable husband completely unsure of what his abilities would be once he healed, tied to those crutches. I hated those damn crutches. They were just a constant, clanking reminder of brokenness.
---
My girlfriends often tell me that I'm strong. But, I think that I just put my head down and walk on. The feelings about multiple pregnancy that didn't end up with babies, a husband who has been called to play commando, another move, the overwhelming anxiety that sometimes hits because of raising children in a evil, dangerous world, those feelings are complicated and require more than one stream of adjectives and hard to feel. It's hard being married to a military man and yet, I  am  so  proud  of  him. I know that I would not have Brecken or Ajax if pregnancies before them had come to fruition, and I know God gave them, those two, He gave me them, specifically, to me. These feelings are usually deeper and more intrinsic than I can process on a day-to-day level. So I just walk on.
Days before Easter, I sat in a park parking lot, near my house and sobbed on the phone to my girlfriend. She also happens to be a wonderful counselor, so my sobs were in more than capable hands. She let me cry it out, an d then told me that just walking forward wasn't going to cut it here. I didn't have to analyze all of the emotions, but I couldn't just move forward either. No amount of grit would give my heart the grace and breathing room it so desperately needed.
---
I stood in the Old Navy dressing room, looking at the dress I had on, feeling a little jaded. I ended up buying the dress, thinking that I would make for a good Easter dress. I had found a cute pastel plaid shirt for Ajax, with a coordinating polka dot, chambray bow tie and my dress would compliment his outfit perfectly.
We ended up actually missed church that Easter Sunday. Well, we didn't miss it. We got the times wrong so we showed up right in the middle of the service. We walked around for a few minutes, trying to find a seat – but there were none. So we picked Ajax back up from his class and went to brunch. Just the three of us, eating eggs benedict and confetti pancakes, sipping on mimosas. Later, we did a little Easter egg hunt for Ajax in our front yard because it had completely slipped my mind to find out when the neighborhood one would have been. It was a great day.
I love the pictures from that day, and not just because we all coordinated so well. So much of the beginning of that year was clouded by sadness and hurt and tears. But that day, the light began to break through. There were genuine smiles and grateful hearts. After all, we were celebrating victory over death. Victory over pain, victory over broken and weary hearts. Victory always comes.
To date, it's my favorite Easter dress. I might even wear it again this year.
---
The pictures from that Easter can be found here, here and here
LOCATION | Carmel-by-the-Sea, California
DRESS |  Old Navy (similar and also similar )
JACKET | J.Crew Factory
SANDALS | Old Navy (similar)
PURSE | vintage Dooney & Bourke
OTHER DRESSES WITH SIMILAR VIBES…
| a super sweet off-the-shoulder version | cute bell sleeve version | if you prefer florals to stripes (for this dress, I would!) | chambray version |