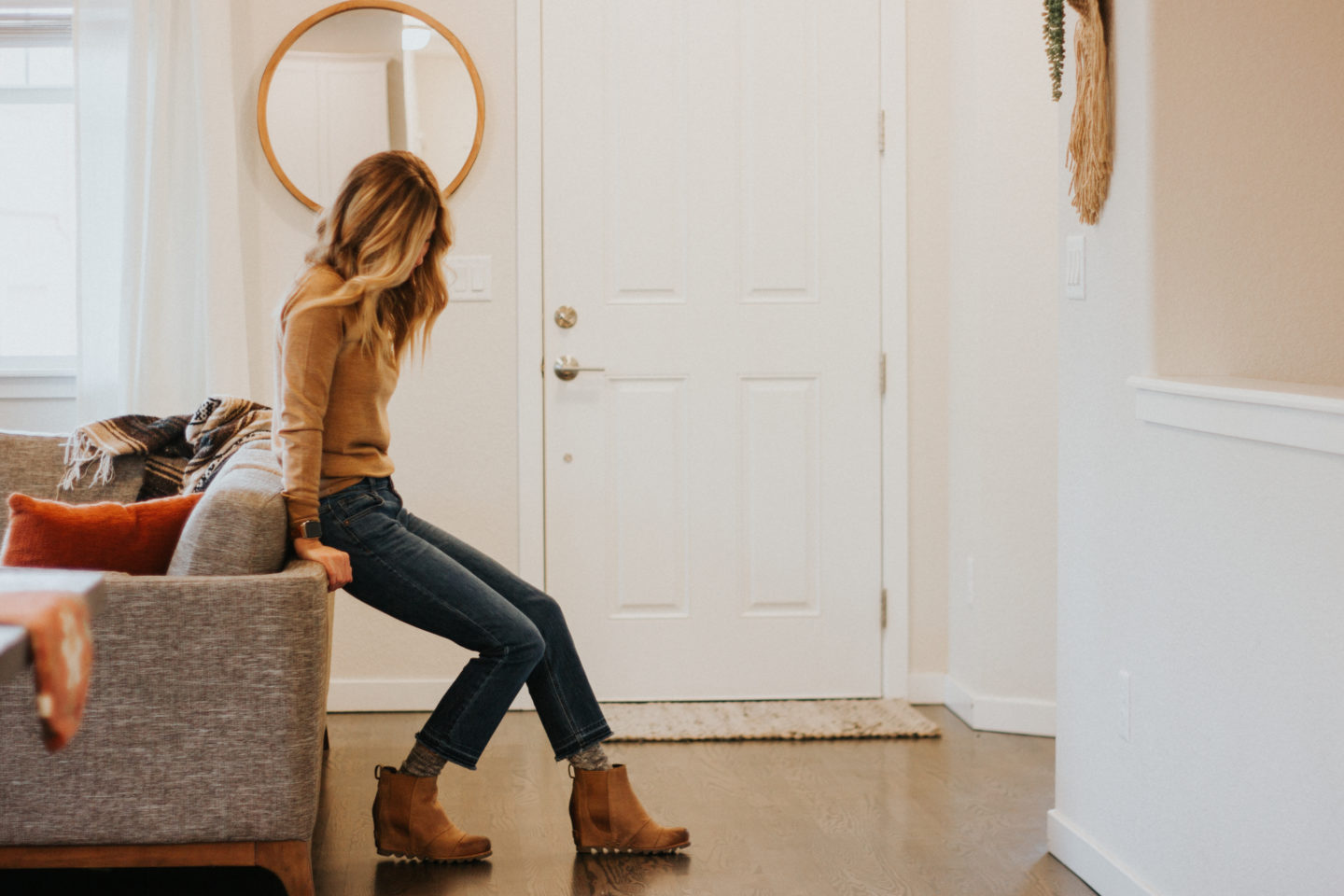 A lot of my jeans are cropped. Not necessarily are all legit cropped, as in the hem stoops mid calf, but most of my jeans do rest somewhere around the top of my ankle to mid-calf. I just think that length is more flattering on me, honestly. And it means that I don't have to cuff my jeans to get the length I want. I'm not here to sell you on cropped jeans, but I am going to show you how I wear my cropped jeans, even when it's cold outside. And since we've already had snow here in Colorado…
There are two ways to wear cropped jeans when it's cold. Either have all skin on your legs completely covered, or allow a bit of skin to peek out. For me, that decision totally depends on how cold it is and how long I'm going to be outside in that cold.
COMPLETELY COVERED
When showing any bit of skin is just to cold, the way that I still get use out of my cropped jeans is by adding socks! I went with a pretty neutral color, but really, you do you. I think the thing to remember when layering socks is that you do want there to be a break between the top of your shoes and where your jeans start. Sometimes that might mean you need to cuff your jeans; which seems counter productive because you're trying to cover up. But trust me, it looks better!
I will say too that my Sorel wedges are a bit higher than your average ankle boot. It's one of the things that I love about them, but it's worth mentioning if you go to recreate this look.
STRAIGHT-LEG DROPPED JEANS – Old Navy (similar version) Madewell version I also have
TURTLENECK – J.Crew Factory  | Booties – Sorel
PEEK-A-BOO
This is probably my favorite way to wear cropped jeans… with the exception of when I can throw on a pair of mules. I love a good mule. But it needs to be sunny and about sixty for me to be able to wear a backless shoe. So when it's a bit colder, I still grab a pair of booties but lose the thick warm socks. I DO however, still have socks on! Even a simple ankle sock can help keep your feet warm.
Unless it's blowing cold air around, I can usually get away with a little peek-a-boo skin showing on my legs. Especially if I'm just running errands or going in and out of places.
CROPPED FLARES  – Abercrombie | TURTLENECK – J.Crew Factory  | BOOTIES – Mojo Moxy (old)
APPLE WATCH BAND – Amazon
With there being so many awesome cropped pants – like these cropped corduroys  – I don't really want to miss out just because it freezing where I live! And I will say, how Mary Beth from Trimm styled her cropped wide-leg pants is perfect. Totally an outfit I would create if I owned any of those pieces! But the boots she is wearing are also perfect for wearing those cropped jeans in the winter months.
Do you wear cropped jeans when it's cold?