When we first booked our trip to Venice, Italy I k n e w about Burano. But after reading that it was a 45 minute boat ride from Venice, I wasn't sure we would be up for it. Then, somehow, we ended up on a boat headed towards Burano. Truthfully, part of our motivation for going was that it was an island that boasted about having a playground. And after a day of cobblestones, bridge after bridge and canals (that are not for playing in) the kids wanted a playground.
There w a s a playground; the Italians have not learn from the Germans when it comes to making playgrounds (if you know, you know). Still, the kids had fun playing there for a bit. And I got to see Burano which is so beautiful, and totally worth the boat ride – playground or no playground – especially for lunch.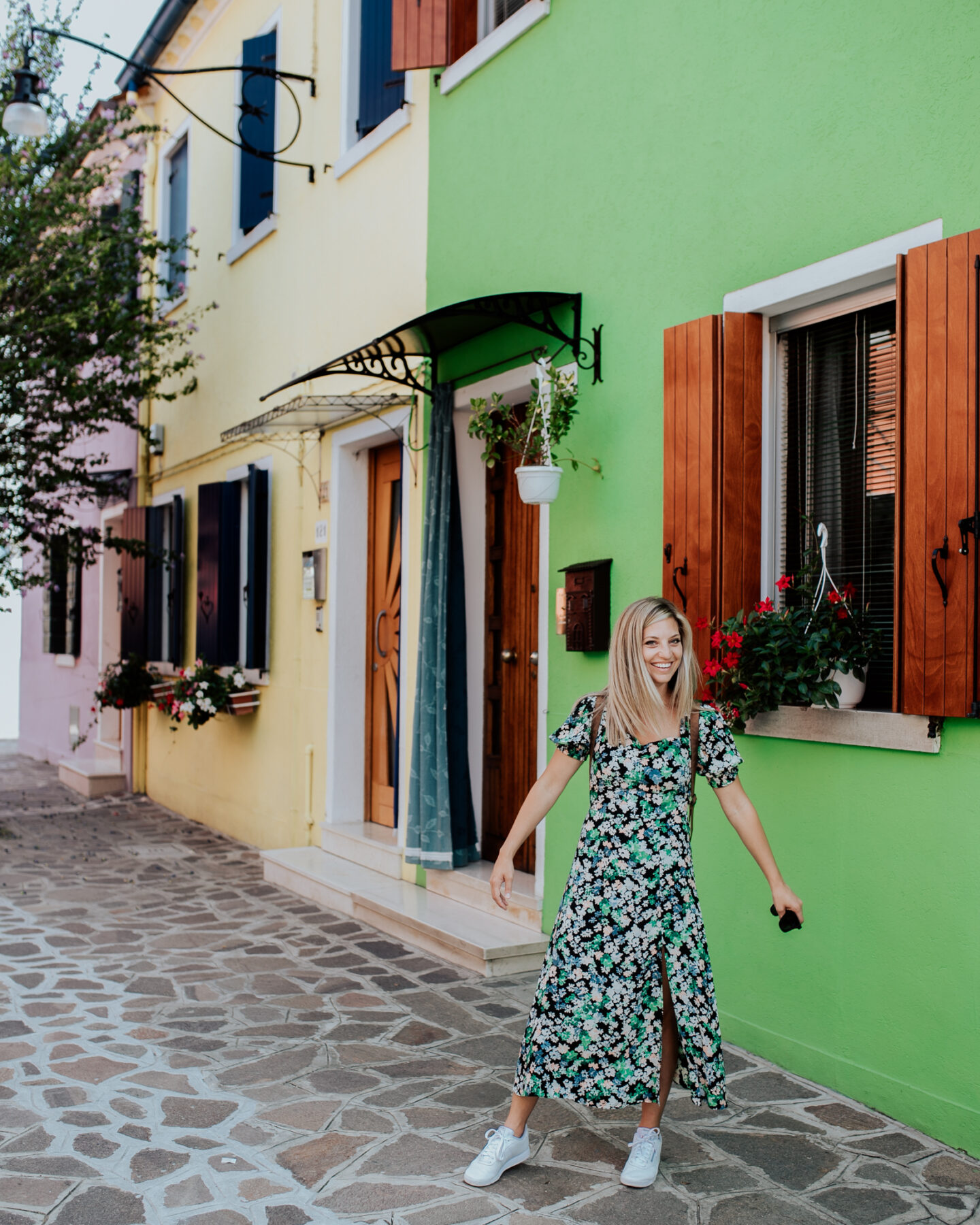 I would just like to note that we DID go to Murano too. We didn't set up a glass blowing tour, but if I was to go back, that is what I would do different. I loved seeing all the glass items there and wish I would have bought more pieces. But Burano stole my heart in a way that Murano didn't. Murano is still worth the trip, but I give Burano my gold star.
Burano is know for it's colorful houses and it's lace; I found out about the lace after the fact, to be honest. Although I did pop into a store that had beautiful linen fabrics. It would have cost $$$ to get just cloth napkins, but they were stunning. You will also find all kinds of glass products here too; most with a Murano sticker on them.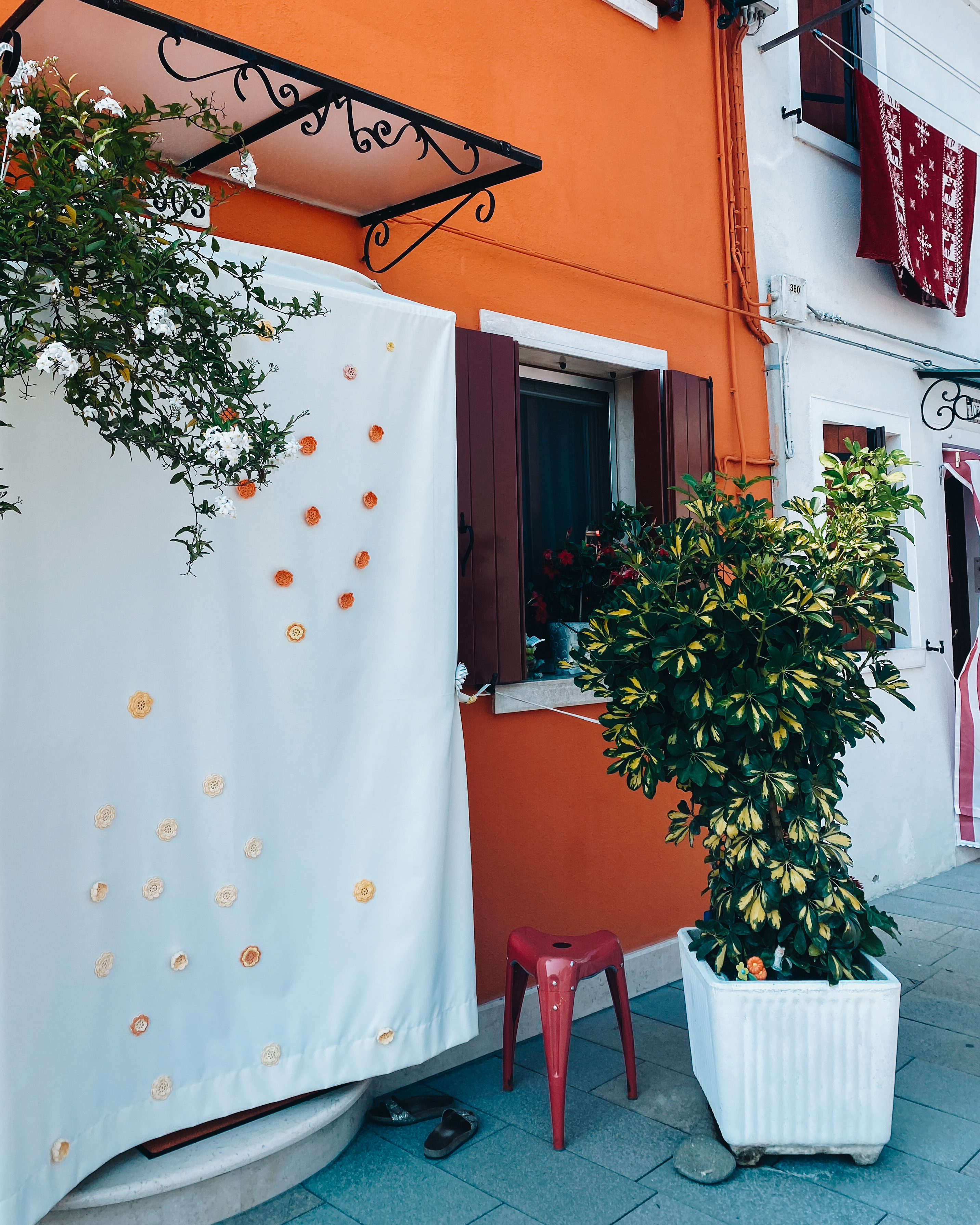 We sat down for lunch at Restaurant Galuppi under a covered area right outside, next to the main road through town. All around Burano there had been posters and signs hanging off houses celebrating a couple that was getting married. While I was sitting there waiting for the boys to meet us for lunch, the bride and all her family walked down the street towards the church. Everyone in the shops and those sitting at restaurants on either side of the street were cheering and shouting how beautiful she looked. I didn't take a picture; I don't think it would capture the moment justly. But it was beautiful to watch.
My husband and I took advantage of our restaurants lunch special. I don't even love clams and my pasta was delicious, even while picking out each little tiny clam from it's shell. My husband is the one that went for the full cooked fish… Who knew a fish could look so appealing?! Kinda.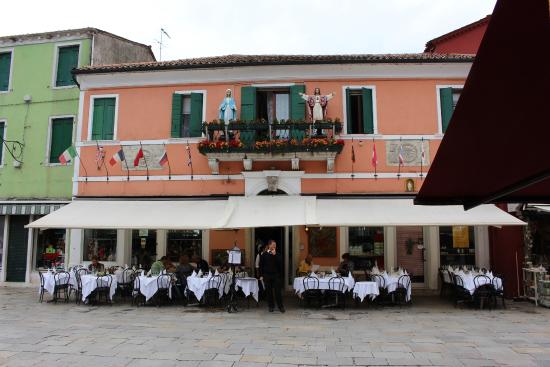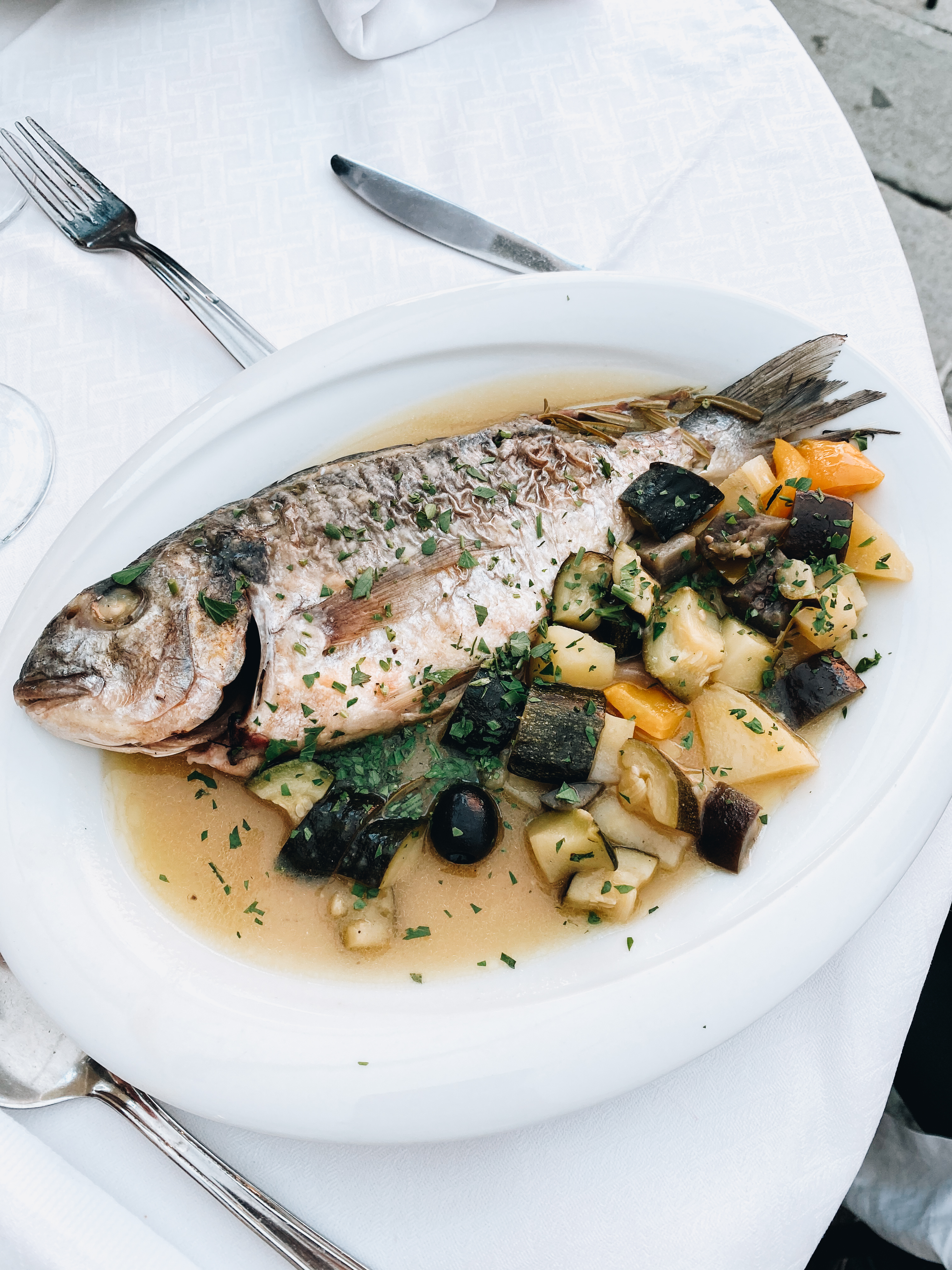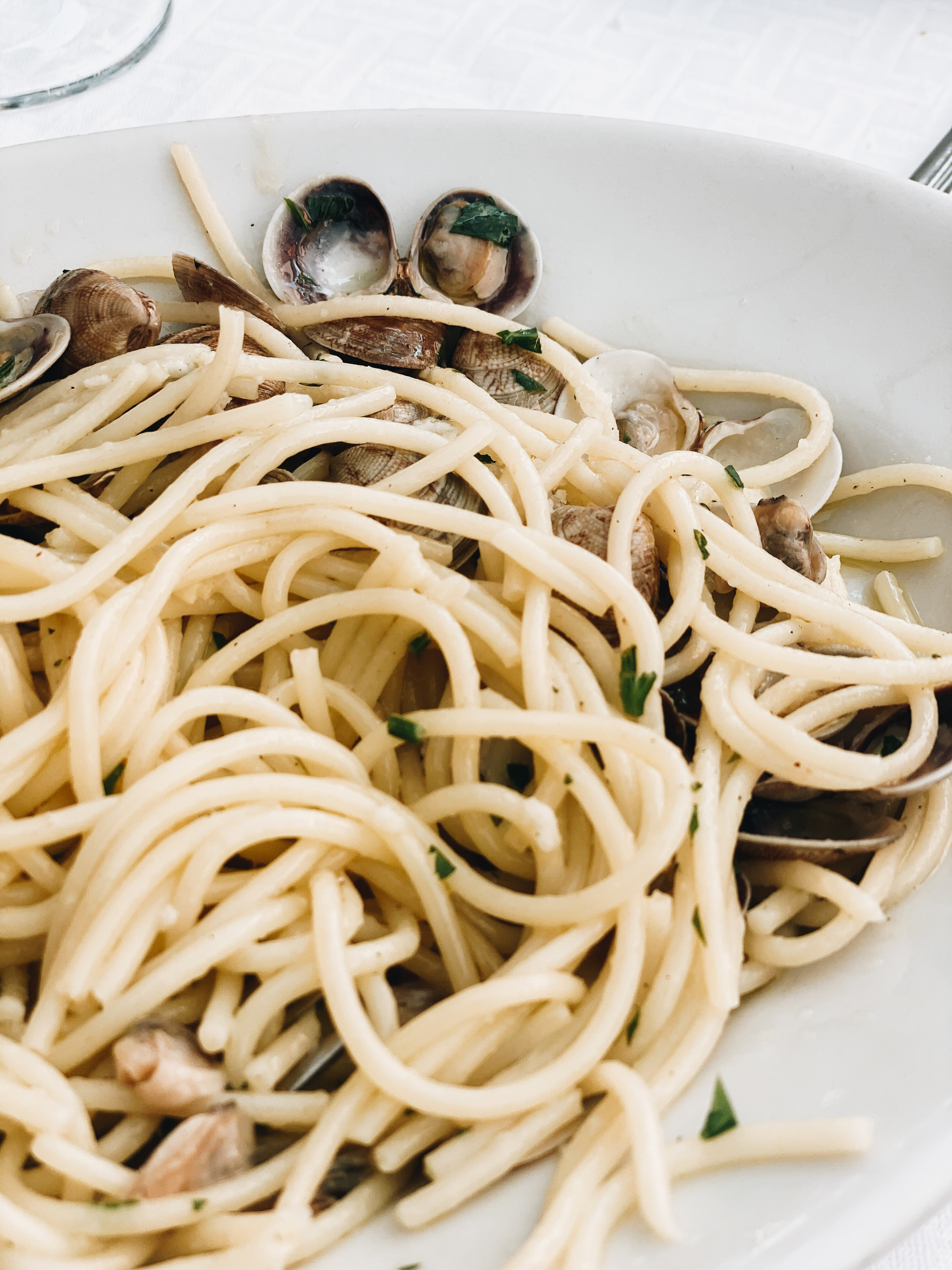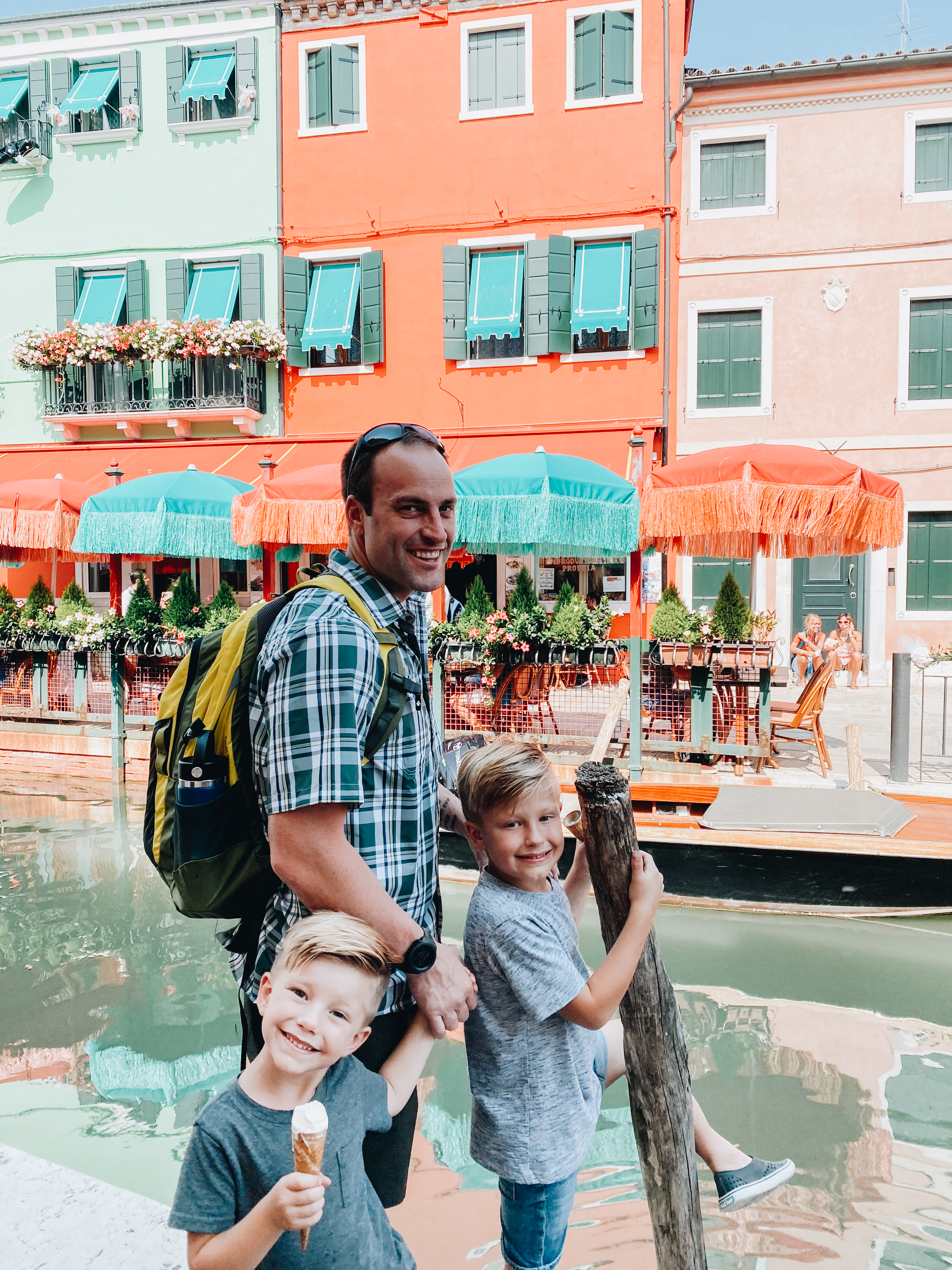 Ice cream is life! And the lady running this particular Eis shop asked me if I was 25 years old, and that I didn't look like I was old enough to be married and have two kids, so obviously we're now best friends.
Burano has sweet little shops to pop in and out of, and there are plenty of canals and little streets to wander down. And there will be a colorful house anywhere you look. Maybe even a local cat.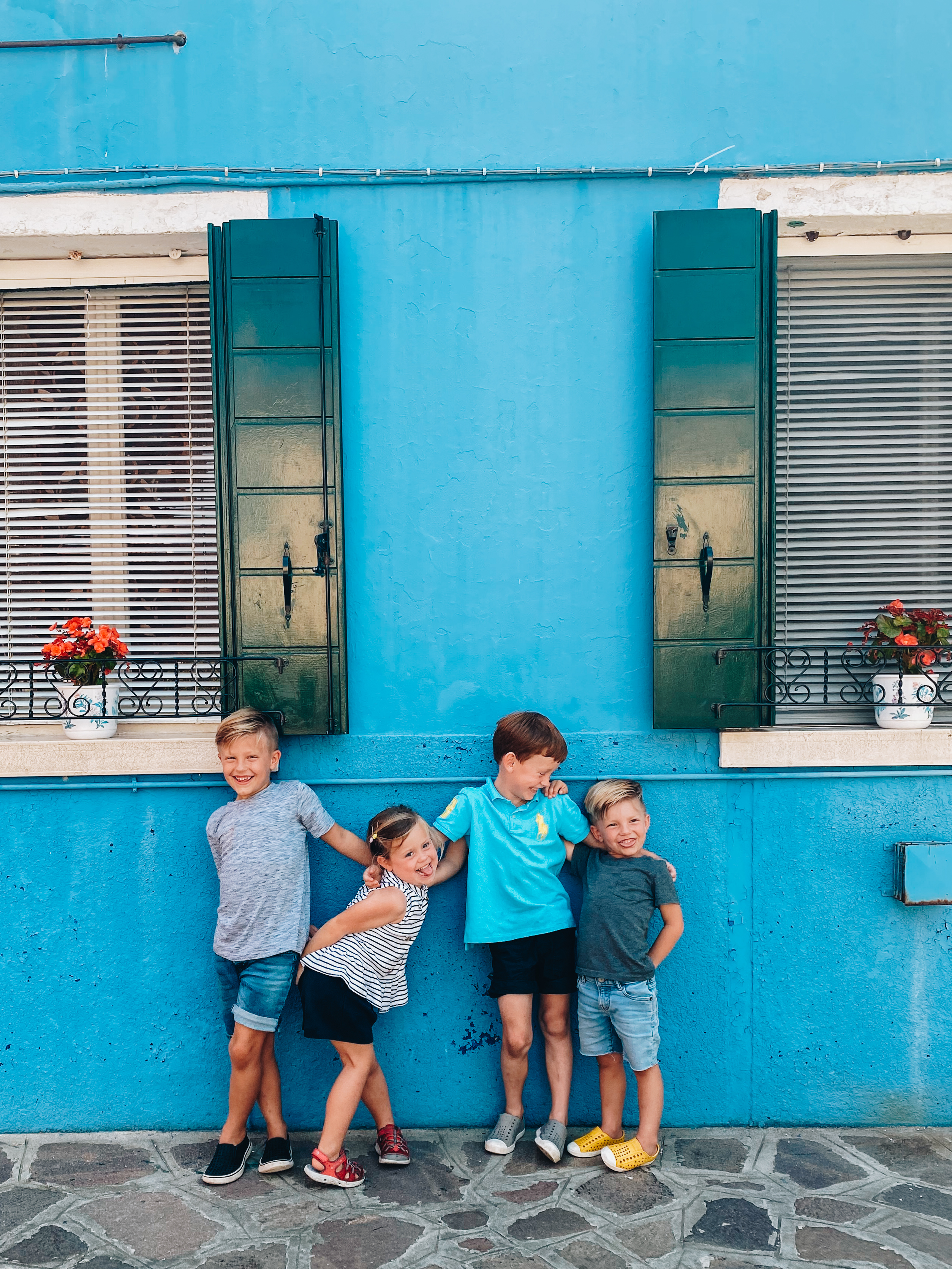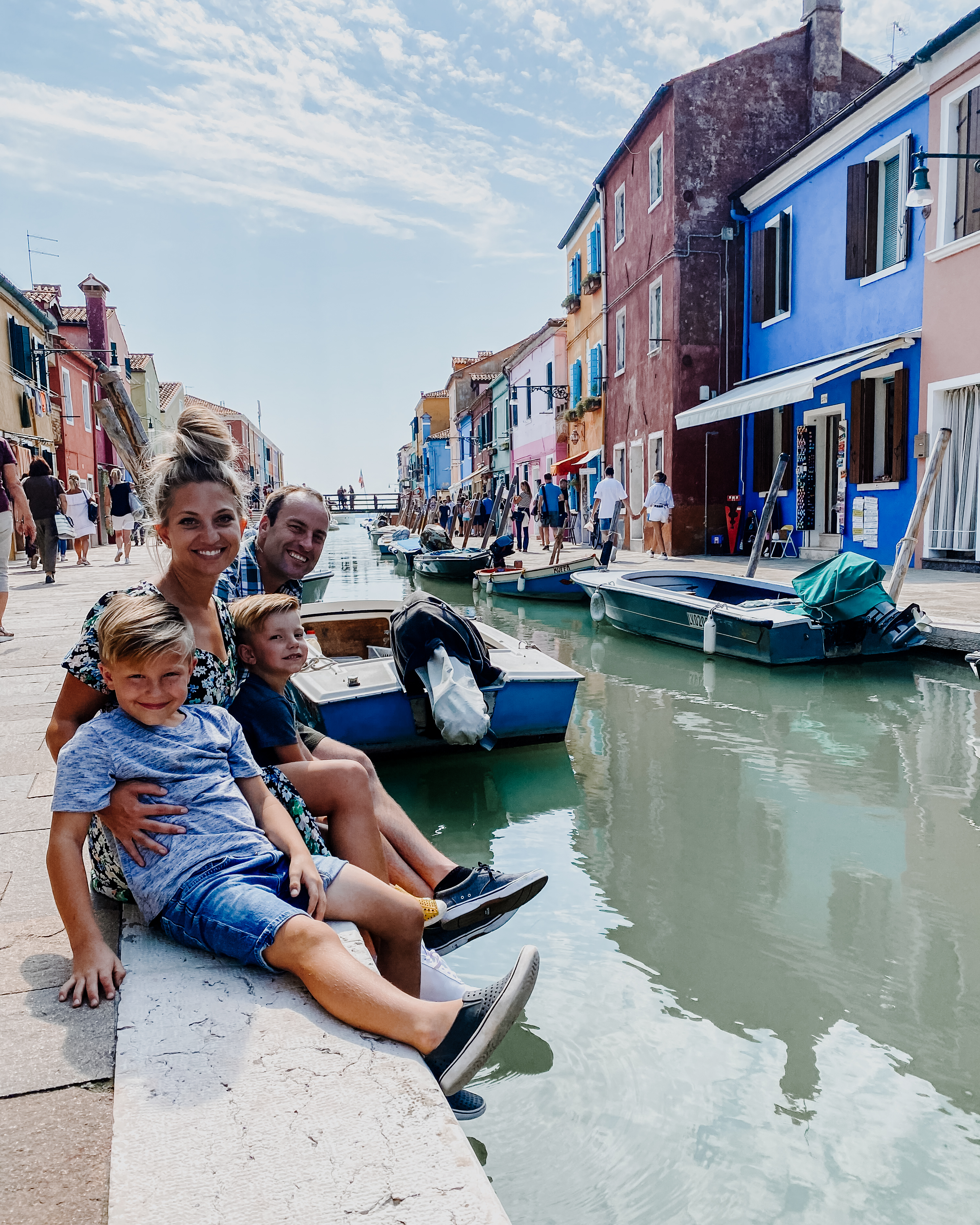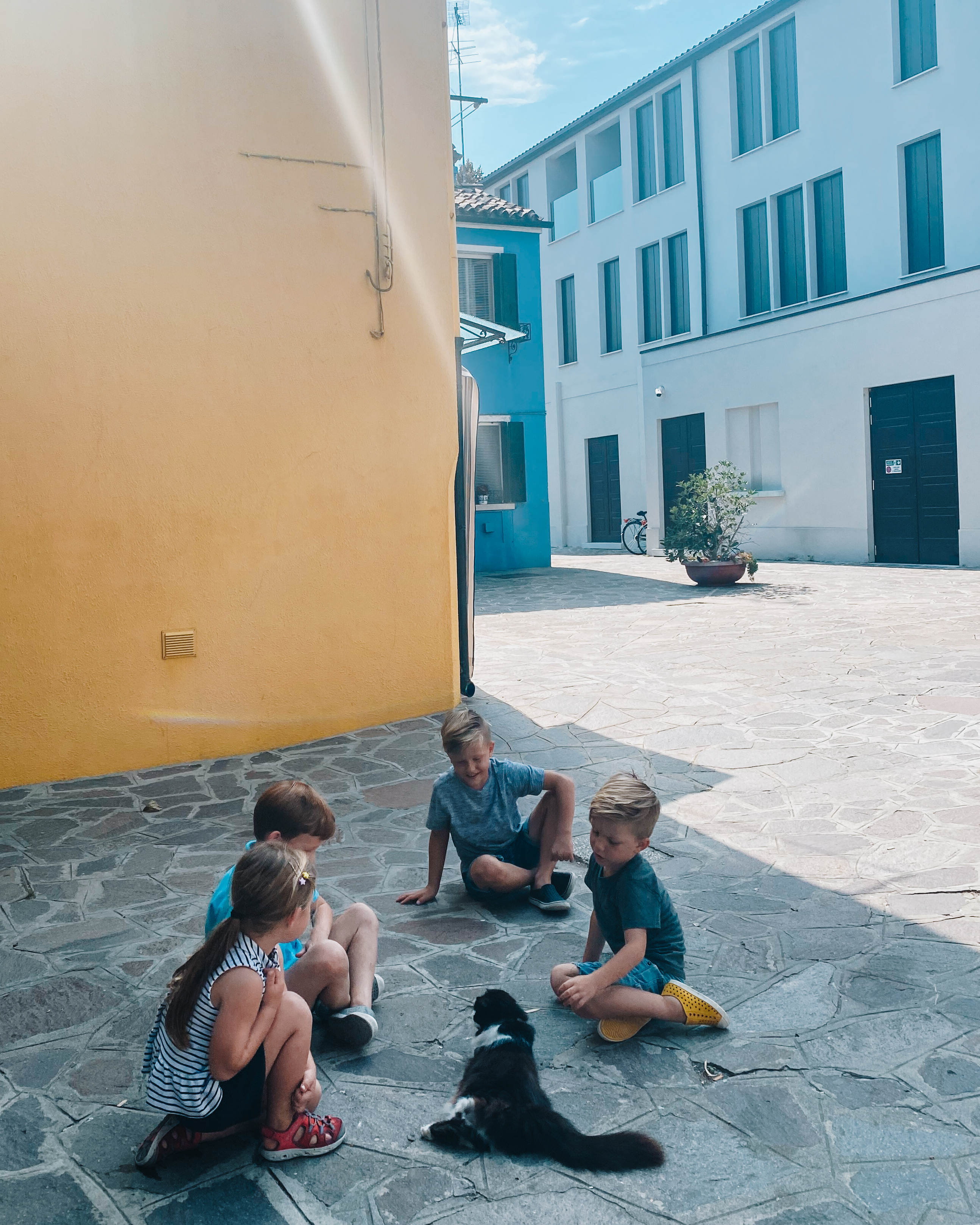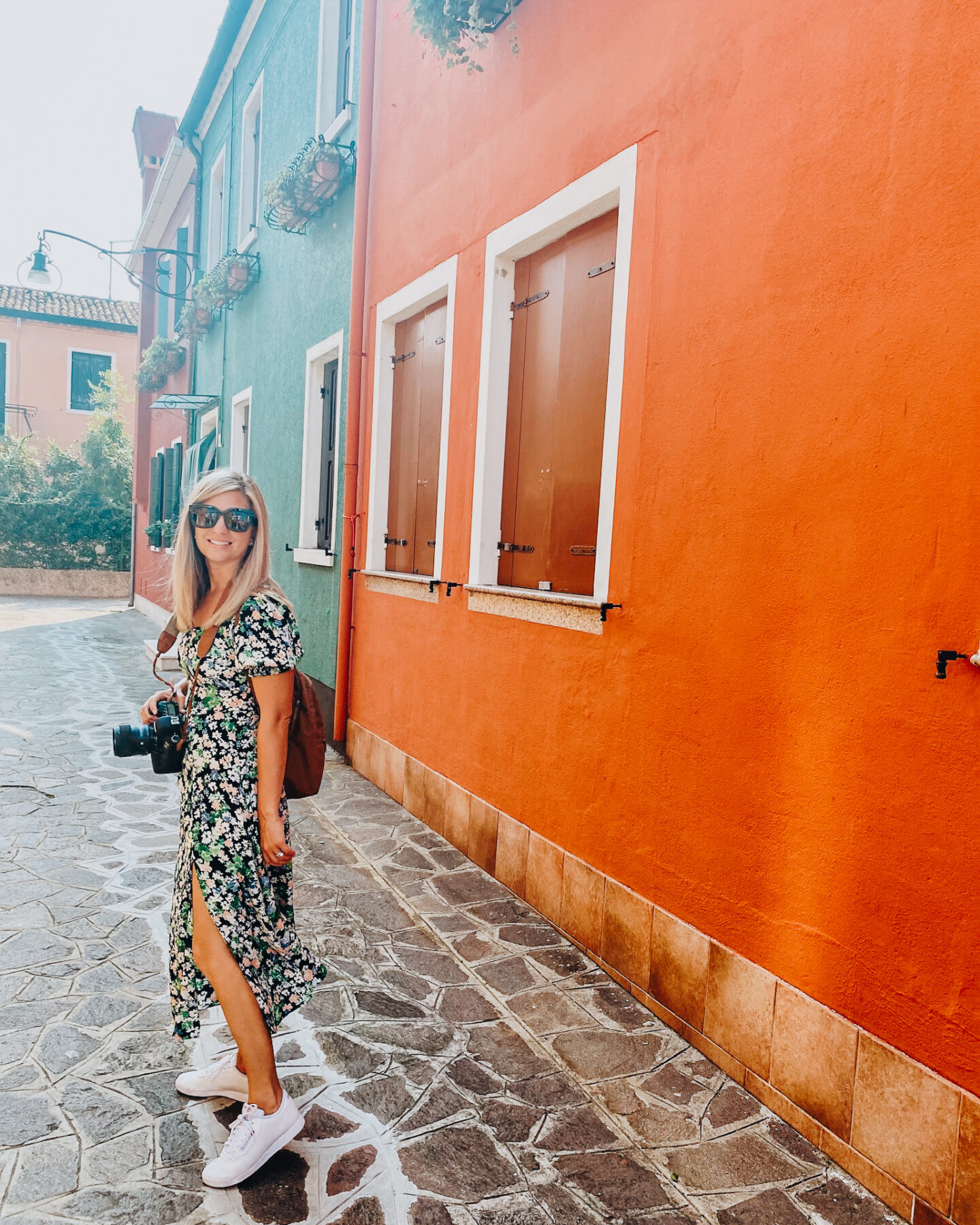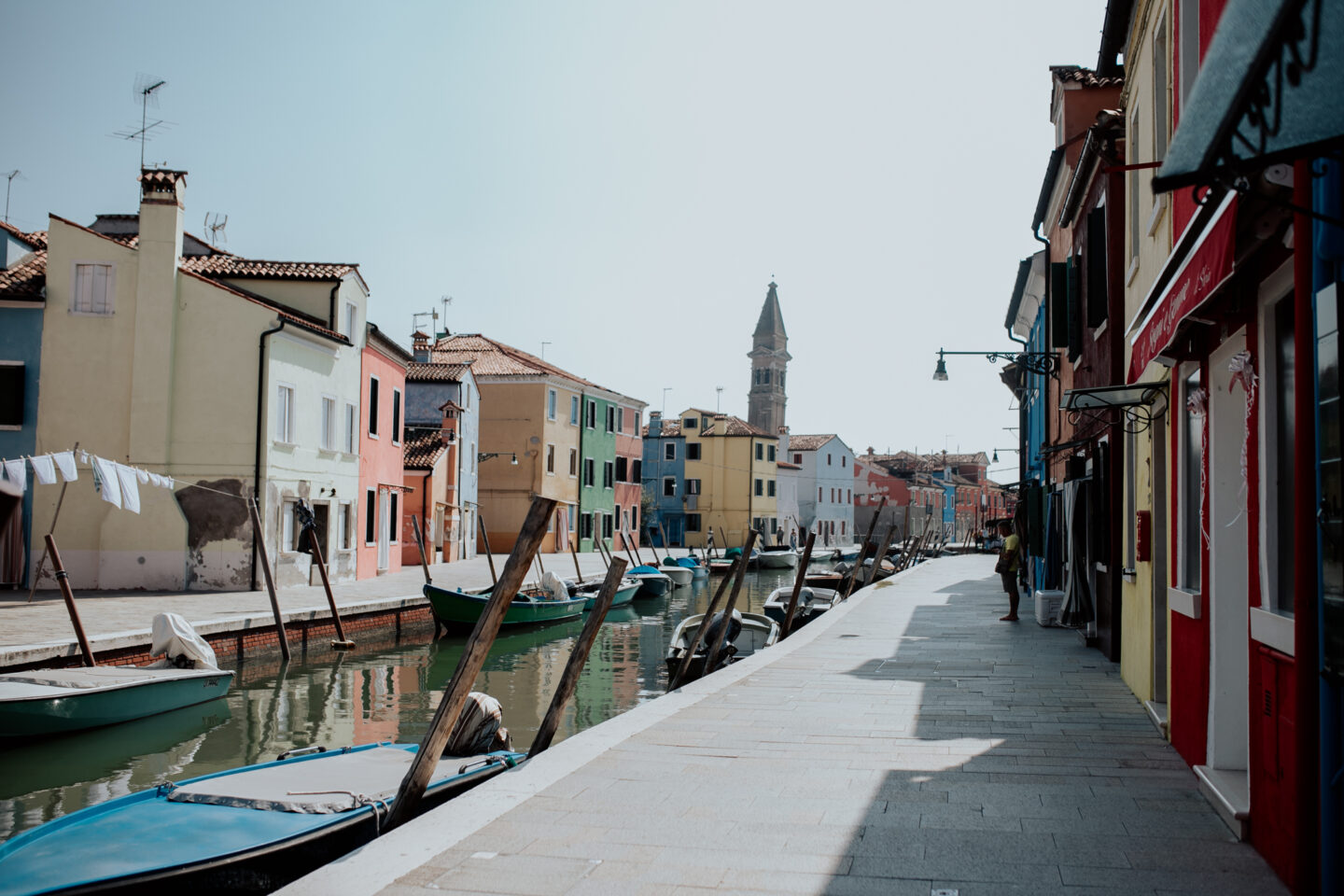 There is something that is just so happy about colorful houses on the water. I fought the compulsion to snap a photo at every corner. I do remember one corner that, while beautiful, smelled like rotten garbage. I guess that is to be excepted when you live on a island that has canals; either that or someone forgot to put their trash out last week… Rotten garbage smell or not in one little corner, I still think Burano is amazing and beautiful and completely deserving of the 45 minute tax boat ride!
Since we visited Venice, Italy in between Europes' Covid lockdowns, it wasn't hard for us or crowded when we took the public water taxis. We always had a seat, even the kids. It's more expensive, but if it's in the cards, you can always hire a private boat to take you to Burano. The trip is faster, and you are the only ones on the boat.
I'm a fan of Venice and now I'm a fan of Burano! And I love that we got to travel there with our kids and with friends. I wish I could share an Aperol Spritz in Burano's grassy, coastal park with all my girlfriends! It would make the most amazing girls trip!