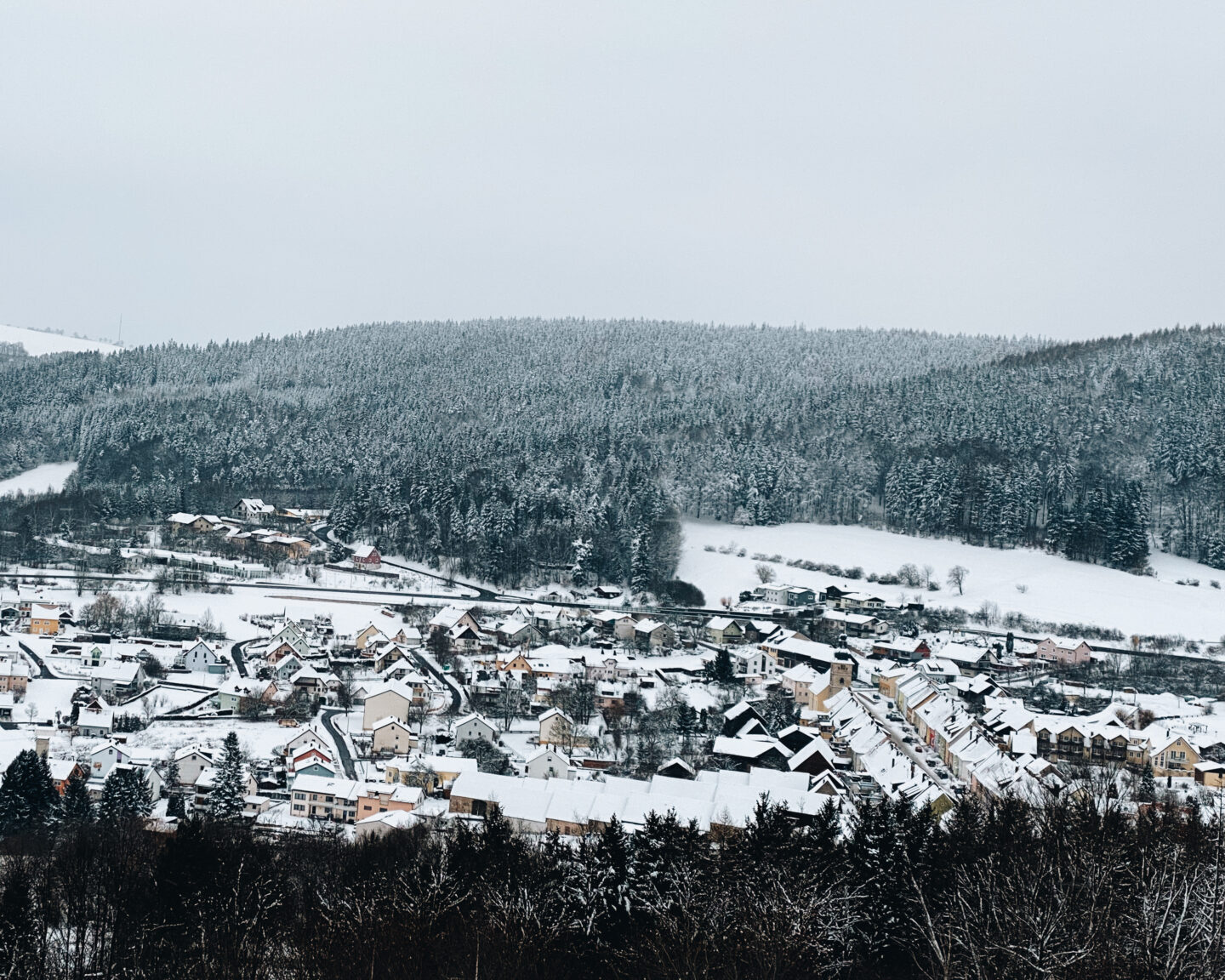 Winter. It can really can mean a variety of different climates. But because I don't think you really need to think about winter gear if you're living in Florida (which is exactly why I think people choose to live there!), I'm writing about winter favorites that I've found useful in a winter that is cold (into the single digits), with snow and wind. Maybe not as cold (and dark) as what it would be like to live in Svalbard though! (Do you follow Cecilia? I love seeing her content about living on an island near the North Pole. I actually first found her on TikTok.) Or even as cold as Alaska, I'm guessing. For reference, the winters I'm referring too are the winters here, in Bavaria, Germany and winters in Colorado.
Where I am located in Germany, there aren't any large bodies of water (like an ocean) which I think drastically make winters harsher (looking at you East Coast); but it's still pretty humid. Probably because it rains so much! That has been one of the biggest differences between here and Colorado – the rain! We have a dehumidifier running around the clock in our basement to avoid that cold, wet blanket feeling. It's that moisture in the air that can make it feel even colder! And I try to avoid being cold at all costs.
I did curated my list around activities that I do regularly here…. so, currently that would be hiking in the woods and occasionally around a castle. Thanks Corona.
WINTER FAVORITES
SOREL BOOTS
It's not new that I'm a big fan of Sorel. I love having fashionable boots that hold up to winter weather. I ended up actually hiking up a mountain, covered in ice, in these boots and I didn't fall once. Plus the boots still look fabulous. And these are the boots I reach for most when running everyday errands. They make a version that has shearling trim too!
HIKING BOOTS
I purchased a pair of hiking boots when we first moved to Germany with the only real requirement being that I wanted them to be waterproof. I have hiked in these boots in rain and snow, and have never had wet feet. If you have plans to be outside, get yourself a pair of hiking boots. I don't know why it took me so long to buy a pair! And adding a pair of hiking boots over hiking shoes, in my opinion, is much more functional. The high top adds protection when trekking through the snow, but since they aren't lined, like my snow boots, I can still wear them in the fall and spring. **My exact boots are the Jack Wolfskin Vojo Hike 2 TEXAPORE
Similar US style from Merrell | North Face | a more sneaker option, but still has all the features of a hiking boot
WOOL SOCKS
If your feet are cold, it's over. Half of that is the right shoes; the other half is warm socks! I'm a big fan of Smartwool socks. Those are the socks we put on Brecken when he goes to Forest Kindergarten. And what I like about Smartwool too, is that you can easily layer them for extra warmth.
The socks that are pictured are a pair of Canadian Socks that I purchased on Amazon.de. They aren't thin, they're actually the thickest pair of socks I own, but they ARE warm!
LONG WINTER JACKET
I have had this Patagonia Down Sweater Jacket for about five years now, and I constantly wearing it – especially during the fall and spring. And it's the piece that I choose to layer under my snowboarding jacket too! But, when it comes to winter and being outside, I needed something longer to stay warm. This Patagonia Down With It jacket was THE PERFECT jacket! It's the best weight – heavy enough to keep you warm, not so heavy that you're going to overheat. I've used the two-way zipper more that I thought I would! The hood is insulated as well, and removable. It's somewhat fitted – as fitted as a puffer jacket can be – and really comfortable on. I highly recommend this jacket; it's one of my most favorite winter jackets I've ever had.
A BALACLAVA
You've never known warmth like having a balaclava on while hiking. I have a fleece one that I've worn while snowboarding, and it worked wonderfully. But I grabbed this Patagonia one earlier this winter, and I love how lightweight and thin it is, while still be warm. Hello wool!
MITTENS
I have *yet* to purchase a really, really nice pair of gloves or mittens. BUT, for the price, these mittens are warm and waterproof – so I'm recommending them! I always wear a pair of gloves underneath – because I usually need to use my fingers for something – but my hands have never been cold wearing these mittens. Plus there is room for hand warmers if you need them.
THREE OF MY FAVORITE WINTER ITEMS FOR KIDS
BOGS BOOTS
Much like Sorel boots for me, I love BOGS boots for kids! They are SO easy to get on and off. Brecken wears his boots to his Forest Kindergarten (and things that hold up for a preschool that meets outside all year round is now my new standard) and both boys have worn them hiking, without snow. I always want the classic style for my boys, but they make some really adorable ones too.
ONE-PIECE SNOW SUIT
Both of my boys have Burton Gore-Tex one-piece snow suits, and we LOVE them! Not only does it make layering underneath a breeze – which keeps them super warm- but they're the easiest to get on and off. Helly Hansen makes a good one-piece suit as well. TIP: If you can, wait to buy pieces like this until the off-season. They might be more limited in sizes, but you'll get a deal for sure. And, in my opinion, Burton runs big.
Toddler all black Burton one-piece Helly Hansen
BALACLAVA
This is the exact brand that my boys have. We originally bought one for each of the boys when they were in ski school; their instructors said that they needed one for skiing. And now we use them all the time! B will even wear one when he goes to school on cold days. The best feature is that you can pull it down below your chin, or have it up, covering your nose. A similar option from Amazon
And this isn't really an item, but we've been using Aquaphor on the boys faces, and I've even used it on mine if I know I'm going to be outside for a while. It has definitely helped the boys not have chapped cheeks after they've been outside playing. It's a must for Brecken when he was going to school too!
---
Those are ALL my current winter favorites! Did I miss something? I mean, you don't know you NEED something, until you do. Hah! But if there's a winter product you just love, let me know!! It might be worth noting that both my husband and I both have the Patagonia Fuego Pack, and it is what we carry when we go hiking, or when we're out exploring for a full day. They've stopped making that pack, but this looks like the current version.
Happy Winter!!