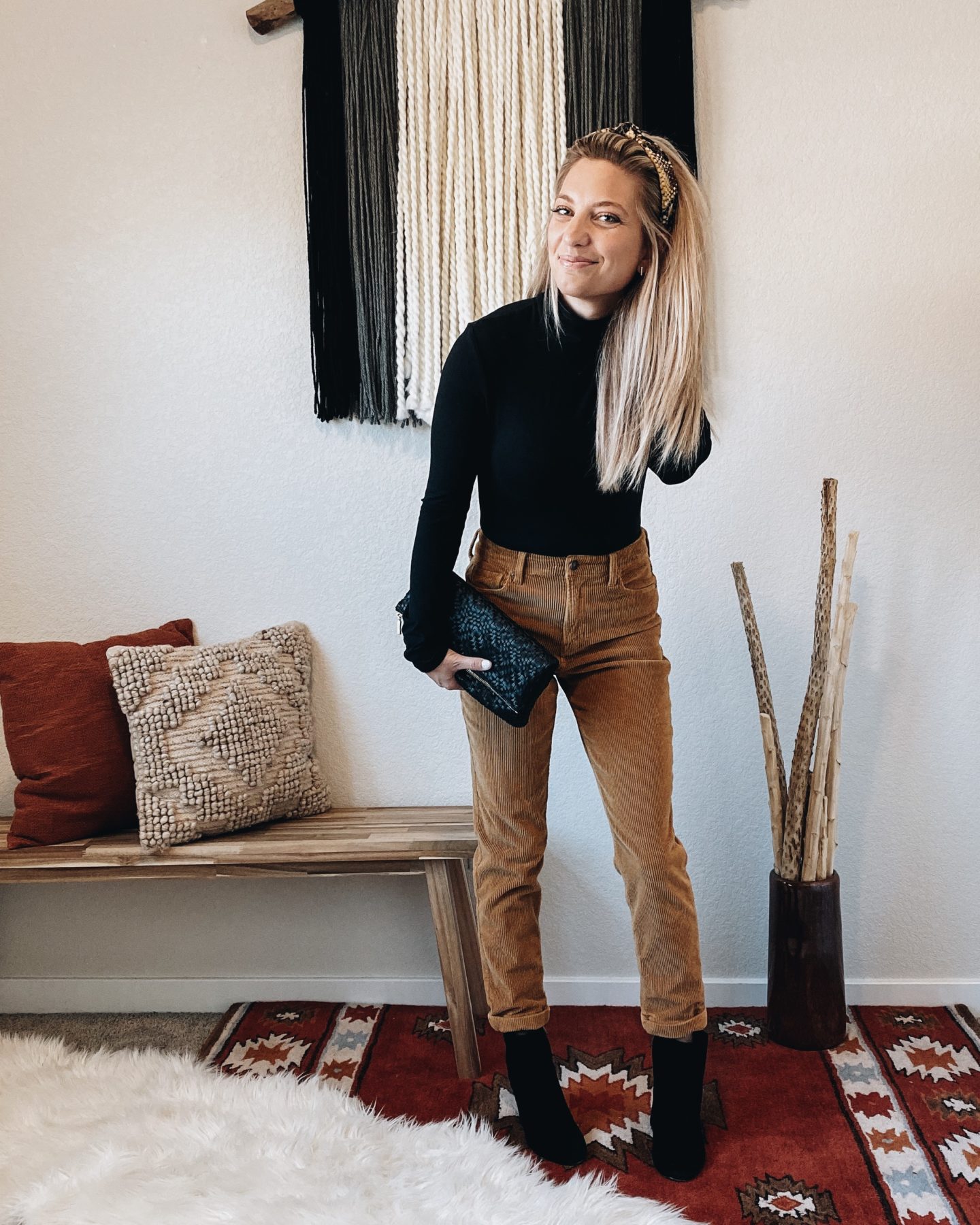 I don't think there's ever been a year that I haven't had a pair of corduroy pants somewhere in my closet… I just haven't chosen to always wear them! One, I think they're great for WINTER. So if you're in Florida….. that's just my opinion. Two, I totally prefer the updated versions that you see now, as compared to the cords we were wearing fifteen years ago. We've gotten better.
You can look for corduroys in your favorite style of pants – skinny, mom jeans, wide legs, Demi boot, straight – they're all out there. And some have a thicker stripe than other; it's all personal preference. The thing to remember is you are adding texture to your lower half, so while I don't think everything has to be super fitted to be flattering, you don't want to look unflattering either. So that might mean you look for a certain fit of pants, or making sure the stripe is skinnier.
I chose to style these American Eagle Corduroy Mom Jeans. I specifically was looking for anything other than a skinny fit, and these were perfect.
CASUAL
Naturally, sneakers had to come out with this casual look. And while I have and LOVE these spotted sneakers, a pair of black or white ones would also look great. And I chose a minimally textured top to not compete with texture on the bottom.
A BIT DRESSIER
top – old from H&M, similar | pants | smoking slipper – old from Target, similar, similar  | crossbody
I haven't seen a lot of buffalo checked shirts floating around out there, but about three years ago when I bought the shirt, they were everywhere. So I happened to have this shirt in my closet and I love how it pairs with these pants. But really, any black and white patterned shirt would look awesome! Like this one or this one if you're looking to add to you closet.
I also left this tie extra feminine by keeping the tails long. It's not always the right call, but I liked the sweetest it added to this masculine outfit.
top – old from H&M, similar | pants | smoking slipper – old from Target, similar, similar  | crossbody
DRESSY
top | pants | boots | clutch – old from Sole Society, similar | headband – from Nordstrom Rack, similar pack
These are THE BEST, most comfortable dress booties that I've ever had. I wore them all over D.C. and don't think twice about grabbing them for a night out.
I love how this bodysuit just dresses these cords up! And while this is the dressiest look, it might be one of my favorites. And black top would work tucked in too, the bodysuit just makes it a bit easier.
Which style is your favorite?!?! 
And I've listed a few other corduroy options below too, if you want to look at styling your own pair of corduroys.
CROPPED STRAIGHT LEG
SUPER SKINNY CORDS
DADJEAN CORDUROY EDITION
CALI DEMI-BOOT
CORDUROY LEGGING
HIGH-RISE SKINNY CORDS