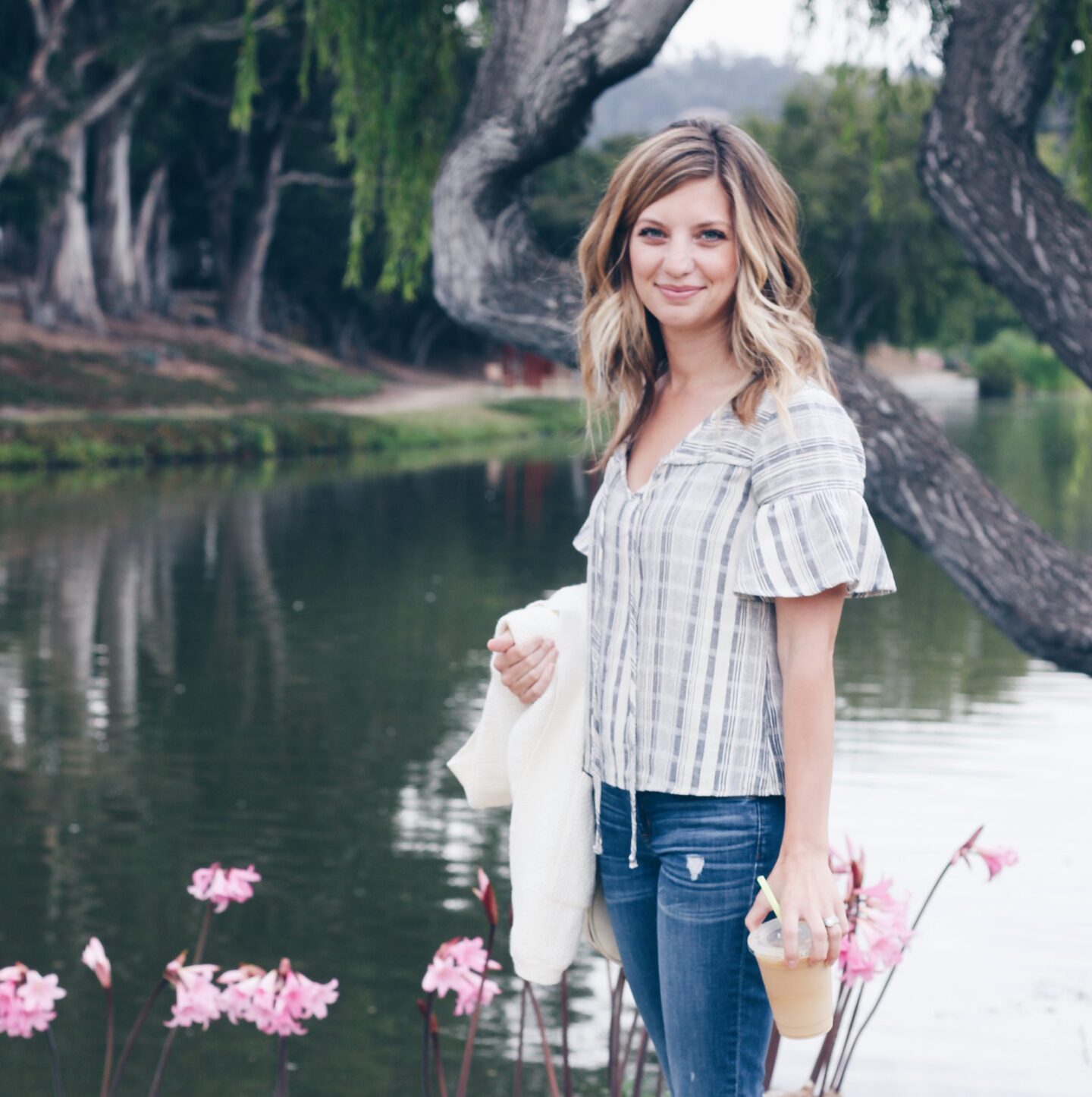 I have always liked shopping. Online shopping. Seriously I don't know the last time I was in an actual store; and I'm sooo okay with that because I love getting pieces from a variety of places and price points!  There are classics, like J.Crew and Gap, cheaper finds from Old Navy and H&M, new favorites from Madewell, the whole mac daddy that is Nordstrom and Nordstrom Rack, Target for all the things, and those smaller, online boutiques that always have something I dig.
This outfit I have on is from J.Crew, Madewell, Alloy (do you EVEN remember) and Stevie Hender.
While you most likely know about J.Crew, Madewell, and maybe remember Alloy from the mail order catalogue you got in high school…. no judgement please… you might not know about Shop Stevie!
One of my sweet friends, Kristianna, just opened up her online boutique shop selling Stevie Hender. She features limited sizes and quanities in beautifully designed, modest, affordable women's fashion. There's just a few of each size per item, so if you see something you love- don't hesitate to snag it! Kristianna adds new stuff every week or two to keep things fresh, and the limited pieces and sizes ensure that not everybody and your mother will show up wearing the same top or dress (I'm looking at you Rent the Runway!) And since Kristianna gets to pick which inventory she would like in her shop, even if you know another Shop Stevie rep, chances are there's not going to be the exact same pieces in each boutique.
Kristianna sent me this top and frankly, I couldn't like it more! (It will make another appearance on the blog because I  w e a r  it! ) I've never met a stripe I didn't like, plus this shirt comes with an adorable flared sleeve and is that boxy cut I love. The fit was spot on with my size, and exactly as describe on her website. Isn't that the number one criteria of online shopping?!?
And while the model (currently Stevie, herself) is tiny, that doesn't mean that only itty bitties look good in the clothing! They are made to fit and look good in ALL the sizes the clothes are sold in! Look to the measurements for the size you need, written on each piece, to give you a feel for length too. Kristianna does a good job of trying to show you different pieces on different body types as well.
SHIRT | other tops that I love this embroidered one and the detail on this one
JEANS
CARDIGAN
SANDALS | okay for real, my shoes are O L D. these Birks are similar in style though
Kristianna is giving you guys 10% off, just use the code Abi10. And because her stuff comes and goes so quickly, you can stay up to date with her inventory through her Instagram and Facebook page.
Seriously guys, I shop at online, boutique shops just about as much as I do the bigger brands and Kristianna has fabulous taste. Stop by and tell her I sent you. And buy yourself something!