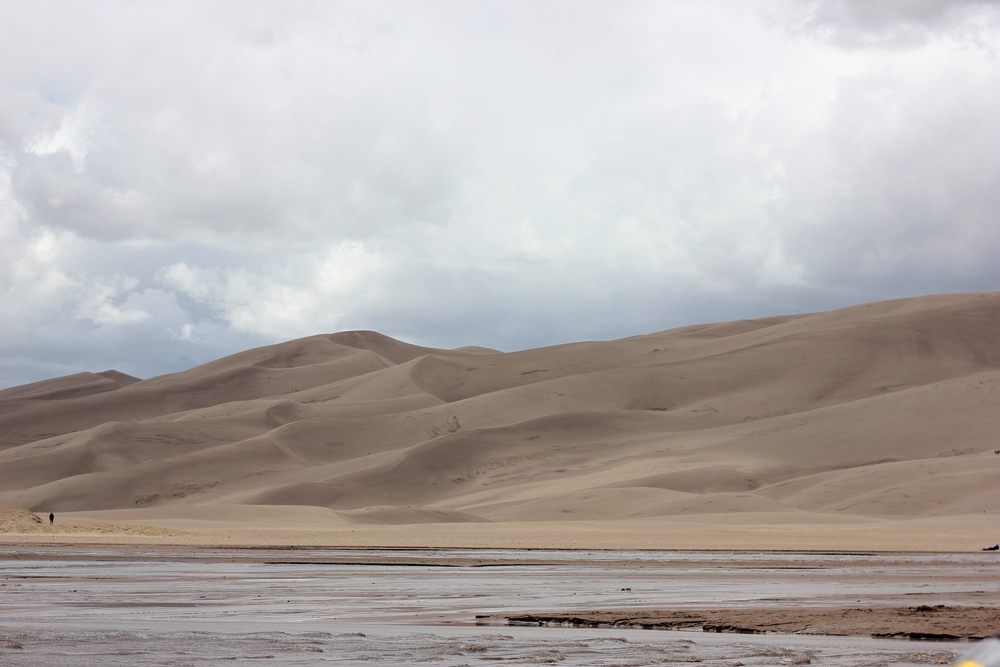 Since moving to Colorado, my husband has had a list of 'Colorado Things' to do. This past weekend, he got to check one off his list. I knew about the Great Sand Dunes, but never looked up anything about them, so I didn't really know what to expect. I mean the name is pretty descriptive, but given they are a super unique Colorado feature, I was still taken back when we drove onto the Great Sand Dunes National Park and Preserve. (Military – you get in free!)
We drove right to the picnic parking spot. I was pleasantly surprised how close the parking lot was to the stream, crik (I am from PA), creek… that you have to cross to get onto the sand dunes.  Once Ajax saw the water, he was the sand dunes biggest fan. Oh, it was so pretty!
The Great Sand Dunes with the Spanish Peaks (and snow-capped at that!) right behind…isn't this place stunning?  The creek was the perfect amount of running water to play in, especially for little ones. And while they say the sand is normally too hot to go barefoot on, it was perfectly fine for our feet the day we were there.
It was a pretty decent drive (three hours) to get to the dunes, but even with the drive, it was a fun day hanging out at the dunes. Love, love those Colorado views!