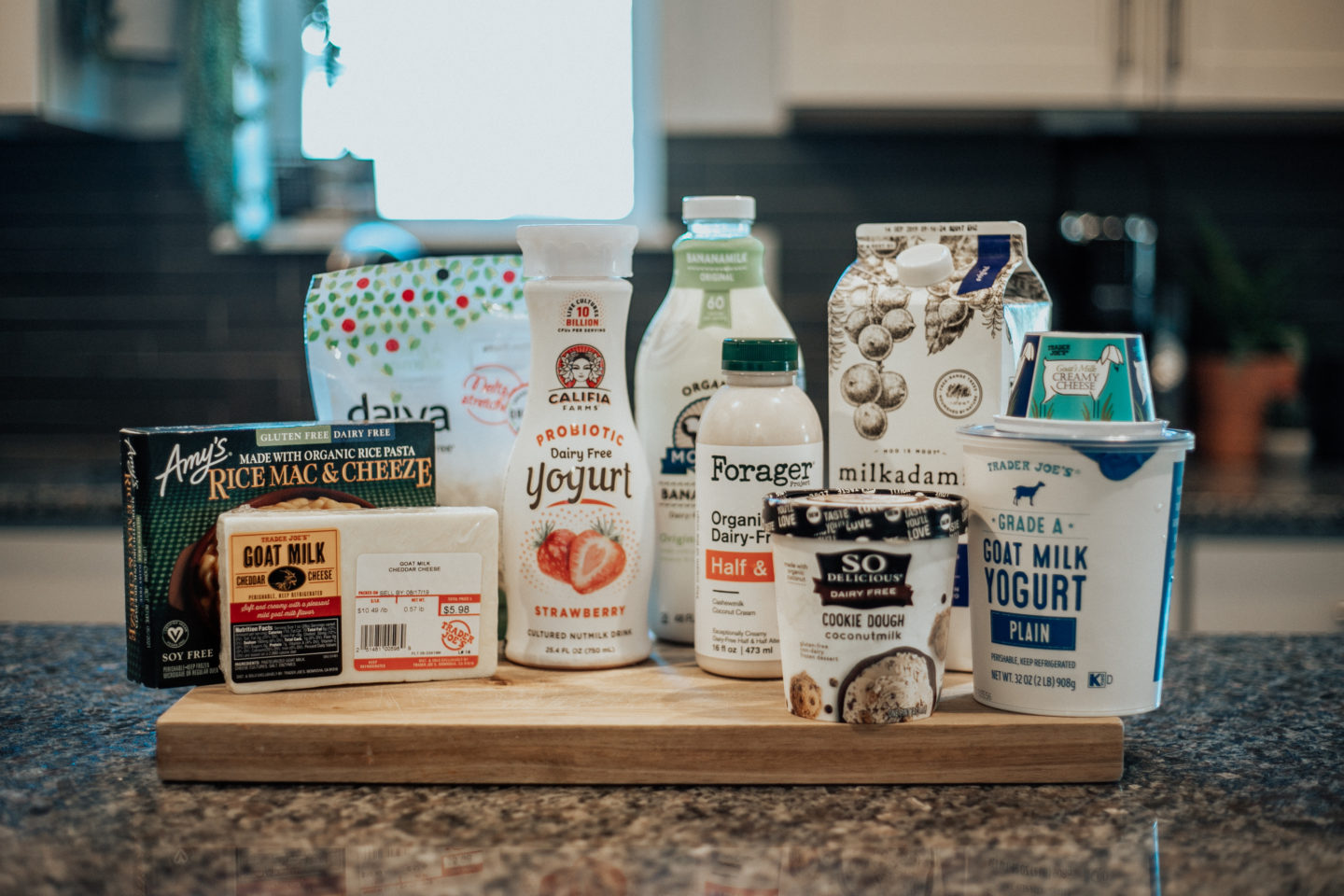 Some of you might know that earlier this year my three year old had tubes put back into his ears (he had them previously and they came out), and he had his adenoids removed. Both were due to repetitive ear infections and constant sinus congestion. What I didn't talk about was while all of that was happening, he was also complaining of belly pain. It was minimal, and not constant, but it was enough that we started talking to his pediatrician about it. We ended up seeing an allergic and confirmed that he is NOT allergic to any foods. Those tests, however, do not rule out sensitivities.
So it was recommenced that we cut out dairy (When I say dairy I mean cow dairy) and see if it made a difference.
Turns out, it did!  But since we're talking about a three year old, changing some of his favorites wasn't the easiest. The biggest dairy products he would eat was: greek yogurt, sharp cheddar cheese, ice cream and milk.
YOGURT – This was the hardest swap to make. We have tried ALL of the dairy-alternative yogurts. Coconut, Almond, Cashew…. all of them (except soy; I try to avoid soy as much as possible) and non of them were adequate for our three year old's pallet.
I found this Goat Milk yogurt at Trader Joes and IF Brecken is going to eat yogurt, it's this. I usually stir in jelly and some frozen berries. I haven't tried it yet, but I could probably blend the yogurt, jelly and berries all together with a little honey, and he might actually start loving yogurt again!
YOGURT DRINK  –  Besides eating yogurt, both of my boys would drink the yogurt drinks too! This is the closest that I've found, that they actually like, to a drinkable yogurt. And I love that there are probiotics in there too. I know there was a blueberry version too, if strawberries aren't an option for you.
I'll add, there is sugar added to this so it's not something we always have. But since they've dramatically reduced how much greek yogurt they're eating (Brecken doesn't eat any) I do like having it around as a good alternative.
CHEDDAR CHEESE  – We would eat sharp cheddar cheese at least once a day…. and we make quesadillas, eat tacos with cheese, and generally choose cheddar cheese for all things (except pizza). So when someone told me that Trader Joes had a goat's milk cheddar cheese, I immediately tried it!
It DOES have a goat flavor, but the cheddar taste is equally strong. It has been the easiest swap to make! Other than it not being orange / yellow, I don't think he's noticed the difference.
MAC & CHEESE – Generally we had the Annie's Mac and Cheese boxes (we would grab them from Costco) and that's what we would use. I tried the Annie's Vegan Mac & Cheese – which I thought was terrible! Really, really terrible. And clearly Brecken did too, because he didn't eat more than a bite. But then I saw this frozen Amy's Rice Mac & Cheeze (gluten and dairy free) and gave it a try. It's pretty good!! I mean, I'll eat it. And while Ajax isn't a big fan, Brecken usually eats it up!
I'm sure I could make my own Mac and not-cheese Cheese (if you have a good recipe, send it my way!) but for now, this frozen option is filling the gap.
PIZZA – We love a good pizza, who doesn't? But it's a bit hard to find what would essentially be a vegan pizza, even frozen! So I've started making our own pizza and using either this Daiya Mozzarella Style Shreds (or the Trader Joes Vegan Mozzarella Shreds) on Brecken's pizza. It works great! Because it's an oil-based product, it tends to be a bit greasy so I always go a bit lighter than with normal mozzarella cheese, but it definitely melts and I think, tastes like very similar.
ICE CREAM –  This was such an easy swap. Coconut belongs in ice cream! This stuff is soooooo good! Like, real good. I tend to prefer this over dairy ice cream. And Brecken has never asked for something else; he's a fan.
And while we haven't tried all the flavors, they have all kinds of varieties of ice cream including ice cream cookies! Those are next to come home with us.
MILK – Brecken wasn't a big milk drinker, so this was probably the least important to find a substitute. But we've tried all the milk alternative! And on any given day, we could have Coconut Milk (probably Brecken's favorite), Almond Milk or my favorite Macadamia Milk. We tried Banana Milk….it just wasn't good. Both of the boys prefer the vanilla flavor in whatever variety I buy the milk (which does have more sugar in it than the unsweetened versions) but they don't even drink a glass a day, so Im okay with it.
HALF & HALF – I haven't given up my actual dairy half & half in my coffee, and Brecken seems to be okay with dairy in things (like chocolate or if something is baked) but I try to have this for when I have a recipe that requires cream of some kind. I usually have coconut cream too, but I think coconut anything has a very strong coconut flavor and it isn't quite a versatile as cashews. This particular half & half is cashew and coconut and it just easier to have on hand than making my own cashew cream… but that might happen soon.
---
So far, these are the products that have worked well for us! If you know of any good products (especially cheeses) let me know! While I still eat dairy, and we still have it in the house, I'm always looking for non-dairy options that are just as good because I DO think that cow dairy can be hard on the body. Even if it is delicious…