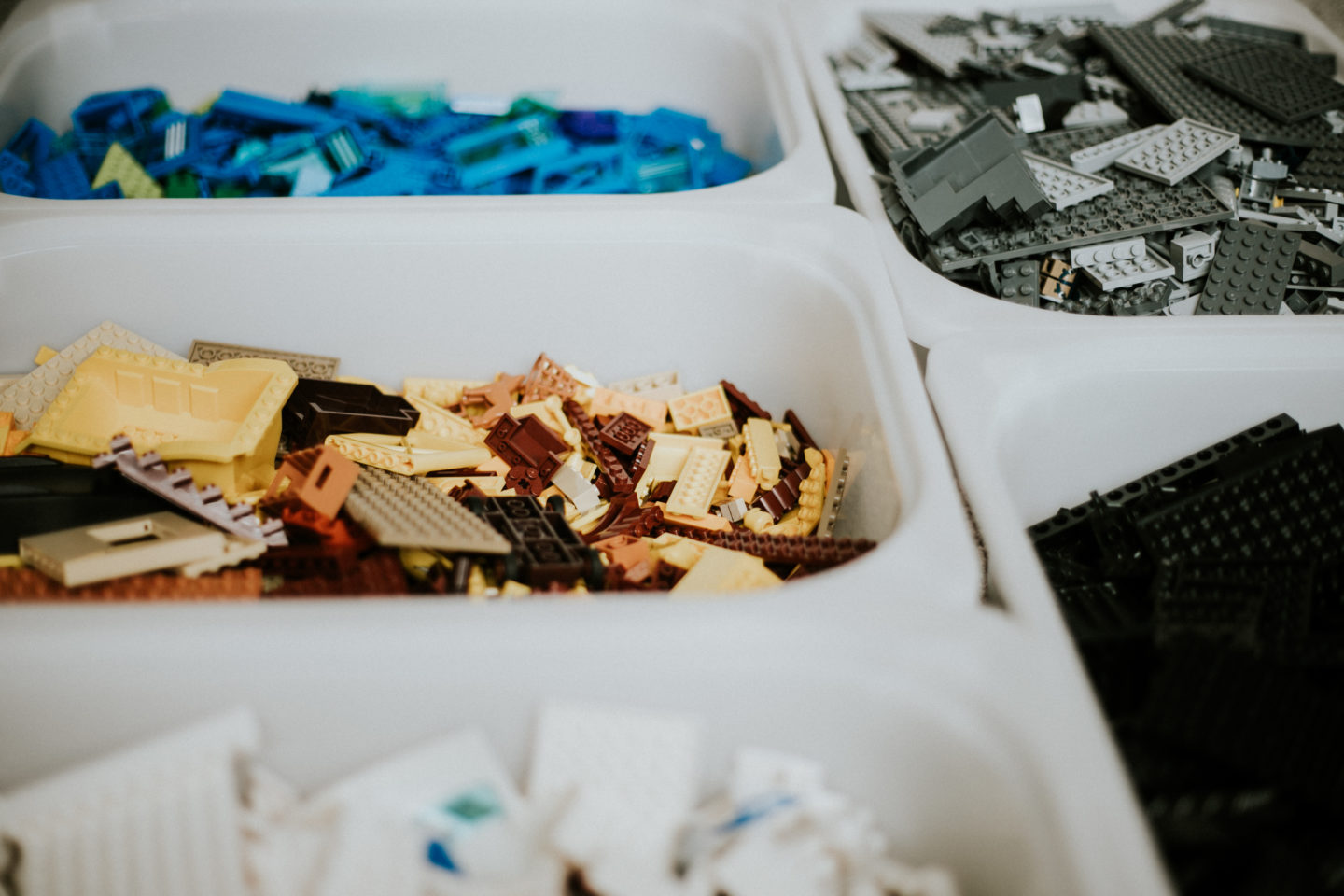 Ajax (my 5 year old) got a few LEGO Duplo sets for his third birthday, and that was all it took for him to become a LEGO fan! Because he was so into construction, we made sure he got just about any construction Duplo set there was. And he would create all of these little scenes, and play them out. Building, taking apart and rebuilding… and so began his love of LEGOs.
Then, around Christmas after his fourth birthday, he got a few regular LEGO sets. We started with the Junior sets (they're the same size as the regular LEGOs, they're just usually a little easier to put together) and off he went.
Currently, my guess is that Ajax has a several thousand LEGOs, and counting… and for the longest time, all those legos would just live on our upstairs playroom floor. Then we used an under-the-bed clear storage bin to put all of his lego into. When I noticed that was too big and Ajax's LEGO finder left for a deployment (his dad) I realized we had to do something different to store and organize his LEGOs.
Generally speaking, most people store and organize LEGOs one of two way: by color or by function. Now, legit LEGO people tell you by function is the right way. Which I totally understand. But we went with color…
Here's why. Ajax is five, and one of the easiest ways for HIM to keep his LEGOs organized is by color. He can easily place the right color into the right bin. And while function is a bit easier when you're looking for a specific piece, right now, it's just easier for us to sort via color.
I chose the TROFAST toy storage system from IKEA for our LEGOs. I wanted bins / drawers to store the LEGOs in, but I also wanted Ajax to have the ability to pull the bins out and put them on the floor. It just makes picking the LEGOs up a bit easier, and depending on the color he can sometimes look through the LEGOs in the bin.
IKEA also offers bins that are deeper than the ones I purchased, and we'll probably add a few of those to our collection just to store manuals and some of the bigger pieces.
I picked this shelf, because I wanted it to fit into the closet, but I'm contemplating going with this configuration instead, so he has a little table to build on as well. If you hit 'trofast lego table' into Pinterest, you'll see a ton of ideas on how to use this toy storage system! I think it's pretty perfect for LEGOs.
And while we started with just one 6-bin shelf, we will need more bins (because I plan on adding a little bit of sorting by functionality within the colors) so when I decide whether to go horizontal or vertical, we'll add another shelf to the mix.
So far this system works perfectly! Ajax can pick up and organize his own LEGOs. And since he is still a fan of rebuilding while using the manuals, having them sorted by color helps him know where to start when looking for a specific piece. And, the biggest factor – his LEGOs have STAYED organized!