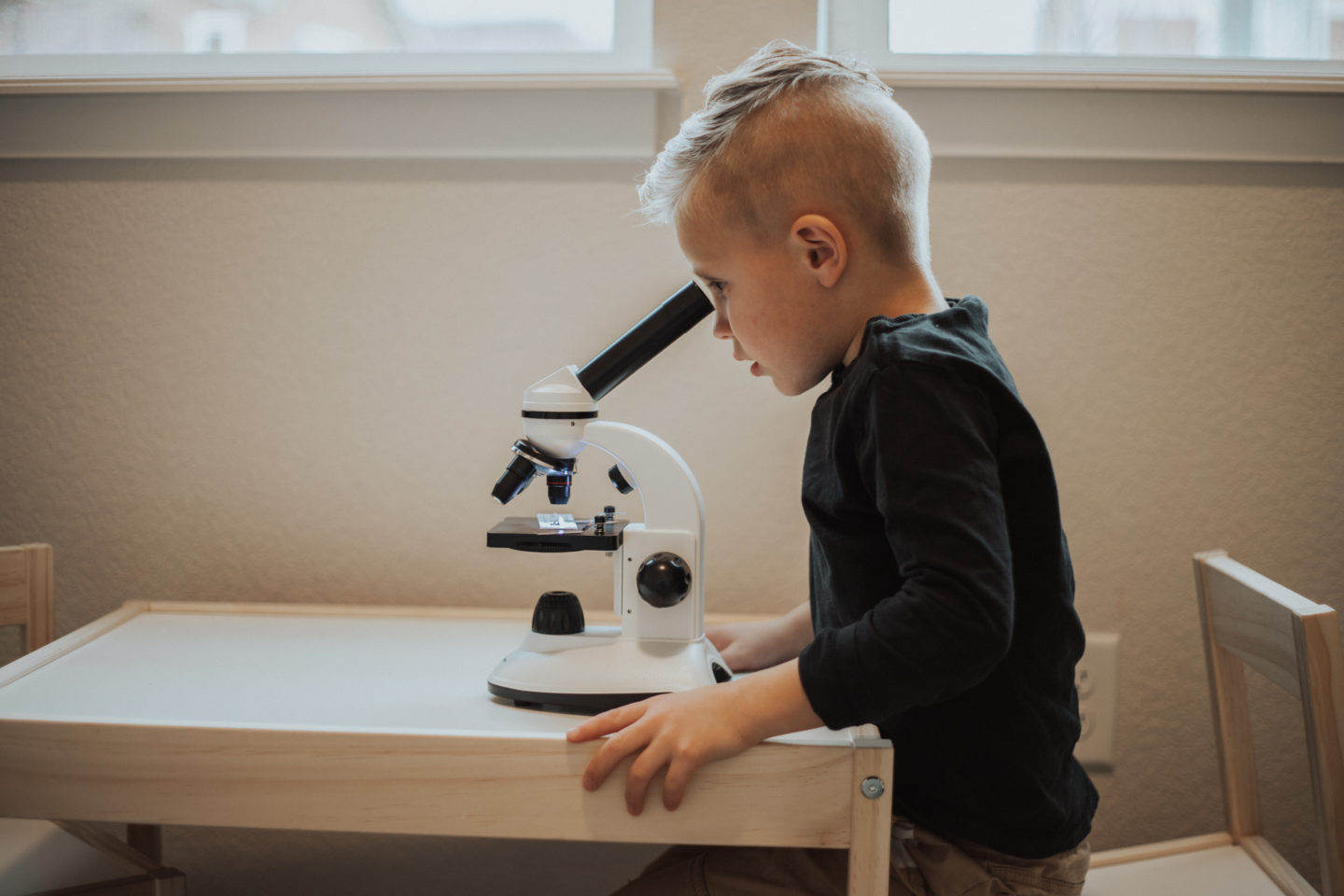 My oldest son loves to learn. If it's fun! Haha! It why a Montessori preschool was really a great fit for him – and he comes home always talking about something new he learning.
But when my girlfriend asked if I wanted to review one of their toy/hobby product for the company that she works for, I said yes! Because Ajax loves experiments and learning! A few days later, we got the Duo Scope and the STEM Starter Kit: Smartphone Microscope and 3D Slides in the mail.
Science nerds, listen up. And homeschooling moms… same same. This is for you!
We started by looking at the STEM Starter Kit: Smartphone Microscope and 3D Slides. I used my iPhone, but it works on any smartphone or tablet. It is such a neat tool! And you aren't limited to just what is on the slides either, although it's really neat that they included them. If you were out on a biology / science adventure, this would be the thing to bring with you!
It just attaches to your phone (or tablet) camera, and whala – you're getting an up close look.
Then we opened up the Duo Scope and Ajax was more than stoked! The Duo Scope has two light sources, allow this microscope to magnify both slides and solid objects. It also allows you to magnify 40X, 100X and 400X. There's loads more that it can do too!
While we just used the slides that came with the smartphone magnifier, you aren't limited in what you can scope. I don't think there is anything more perfect for an at-home science classroom.
While we're not super science nerds (or a homeschooling family), we even had a blast with these pieces! Science can ALWAYS be fun! But if you DO happen to fall into either of those categories above, get your hands on one or both of these pieces!
And in the words of Dr. Scott the Paleontologist (from Dinosaur Train) "Remember, get outside, get into nature, and make your own discoveries!" These STEM pieces can help you do that!