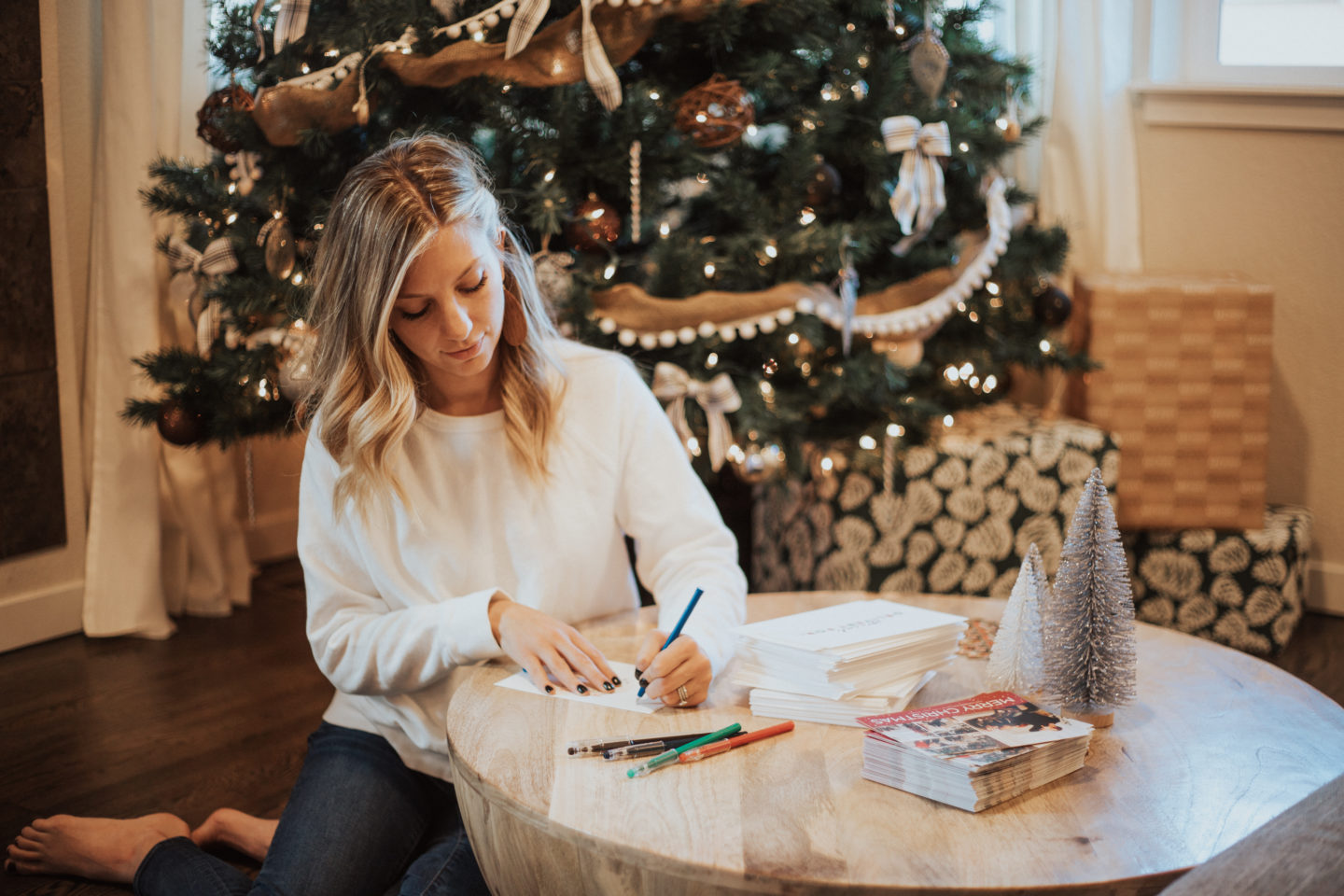 This shop has been compensated by Collective Bias, Inc. and its advertiser. All opinions are mine alone.
#PilotYourHoliday #CollectiveBias
One of my favorite things about the holidays are all the Christmas cards that show up in my mailbox; and that Christmas card that I put in the mailbox every year too!
Every year since I've been married, we've done a Christmas card! And in case you didn't know this, we always create a Christmas card. The first Christmas we did a card, we ended up in a lederhosen and dirndle. It ended up being the perfect picture because we had spent the first ten months of marriage in Germany. But ever since then, we've made a point to create a theme or setting for our Christmas cards. To date, one of my favorite concepts was the year we did naughty or nice. WE made two cards, and sent out either a naughty or nice card. It was awesome!
You will get a few sneak peaks into my 2018 Christmas in the photos below, but you'll for sure notice the FriXion® Pens by Pilot Pen I grabbed the last time I was at Target so I could add a little extra cheer to my Christmas cards this year!
One of the absolute BEST things about these FriXion® Pens by Pilot Pen, besides the pen's smooth writing gel ink, is that they are ERASABLE! For real. So when you're addressing cards and you put the wrong address down, or misspell someone's last name – you can erase it! FriXion® is the only pen that gives you the power of infinite do-overs, so you can write, erase and re-write until you've got it just right. I definitely made use of that while doing my cards this year!
And I'll just add this, if you like to use a planner (hey 2019!) these are the pens you need! Did I mention that they are pens, that you can erase!?!
While I do usually get some of my Christmas cards printed with some addresses – the ones I have remembered to keep updated in my phone – usually I have to hand-write about fifty percent of the addresses, but I don't really mind. I kinda of like it! And while I'm no artist, I do love adding a few extra cheery touches to the envelopes of my cards, and occasionally a little note on the inside. Christmas lights, Christmas trees and stars are my go-to's when it comes to embellishing my envelopes. But because you can erase these FriXion® Pens by Pilot Pen, I might go a little crazy and try adding a few sprigs holly or wreaths.
my best tips + tricks for getting your holiday cards out
Pick a photo or photos that feel most like you or your family.
It doesn't even have to be the best photo or a professional one, just one that represents your year, your current life. Or, do what I do and create a photo (photos) to tell a specific story or concept.
Keep a running spreadsheet of names and addresses.
While I still struggle with making sure everyone's updated address makes it onto the list, I do make sure to put everyone who receives a card into a spreadsheet. It helps me plan how many cards I'll need to order, as well as helping me remember who I actually sent card too.
Pick up supplies.
Stamps, you need those to be able to mail your cards. I can't tell you how many years I've been at the mailbox, ready to mail my cards and completely forgot to put stamps on them!
And FriXion® Pens by Pilot Pen! Even if you just want to jot a little note inside your Christmas cards, or add a little extra cheer to your envelopes, the erasable FriXion® Pens by Pilot Pen are the way to go. The next time you're at Target, which will probably be tomorrow, make sure to pick up a pack and download the Pilot FriXion Pen Cartwheel Offer for 15% off any FriXion Erasable Pen.
Hover over the photo to shop!