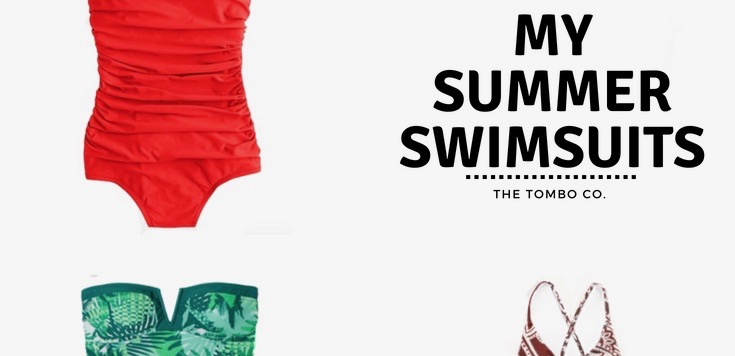 I am all about the swimsuits this summer! Mainly because I can wear one everyday if I want, because that Colorado sun is so rad. It's been a few summers since I really looked at buying swimsuits so I wasn't totally sure what I wanted. Clearly, the one-piece swimsuits caught my eye. They just make so many good ones now that it's hard to say no.
Now, you might wonder why one person might need so many swimsuits, and the right answer is that you don't. I think everyone needs at least two – especially if you're hitting the pool almost every day. I like to have options, and usually can keep my suits for several years. So in case you're looking for another swimsuit,  I've listed the ones I'll be wearing this summer.
Okay. In full disclosure I had to call my BFF and ask her if I could actually pull this off. Don't get me wrong, I really liked it, but I didn't know if I should…. It's got side-boob, a high leg and a cheeky bootie backside. Which is exactly why I kept it! Hah, everyone needs that one hot swimsuit.
I bought this as a backup swimsuit, but currently, it's my favorite! I love the cut and fit and while I was indifferent about the color and pattern when I bought it – seeing it in person made me love it.
So I don't have this swimsuit – but I had to put a J.Crew swimsuit in here because I DO have a bandeau one-piece that I'VE HAD FOR EIGHT YEARS.  And I'm still wearing it! They're a little bit pricier, but all the swimsuits I've purchased from them have lasted for years.  Worth it, in my opinion.
bandeau bikini 
Okay, this suit is in my cart. But the bandeau bikini that I wear when I'm bronzing is from Target (a few years ago). This is current, and clearly I'm loving these tropical leaf/tree prints.
classic one-piece – the one I actually have
The more classic one-piece that I actually have didn't have a photo with just the swimsuit (but it's linked above), but I have a friend who has the swimsuit pictured, and it's get's A's all around. You need a classic one-piece in your swimsuit closet. It's the one swimsuit that will never be the wrong suit to wear.
---
There they are, my summer uniform! Hah, but for real, my summer swimsuits. What do you think? Do you have a favorite? Where's the best suit you've ever purchased from?