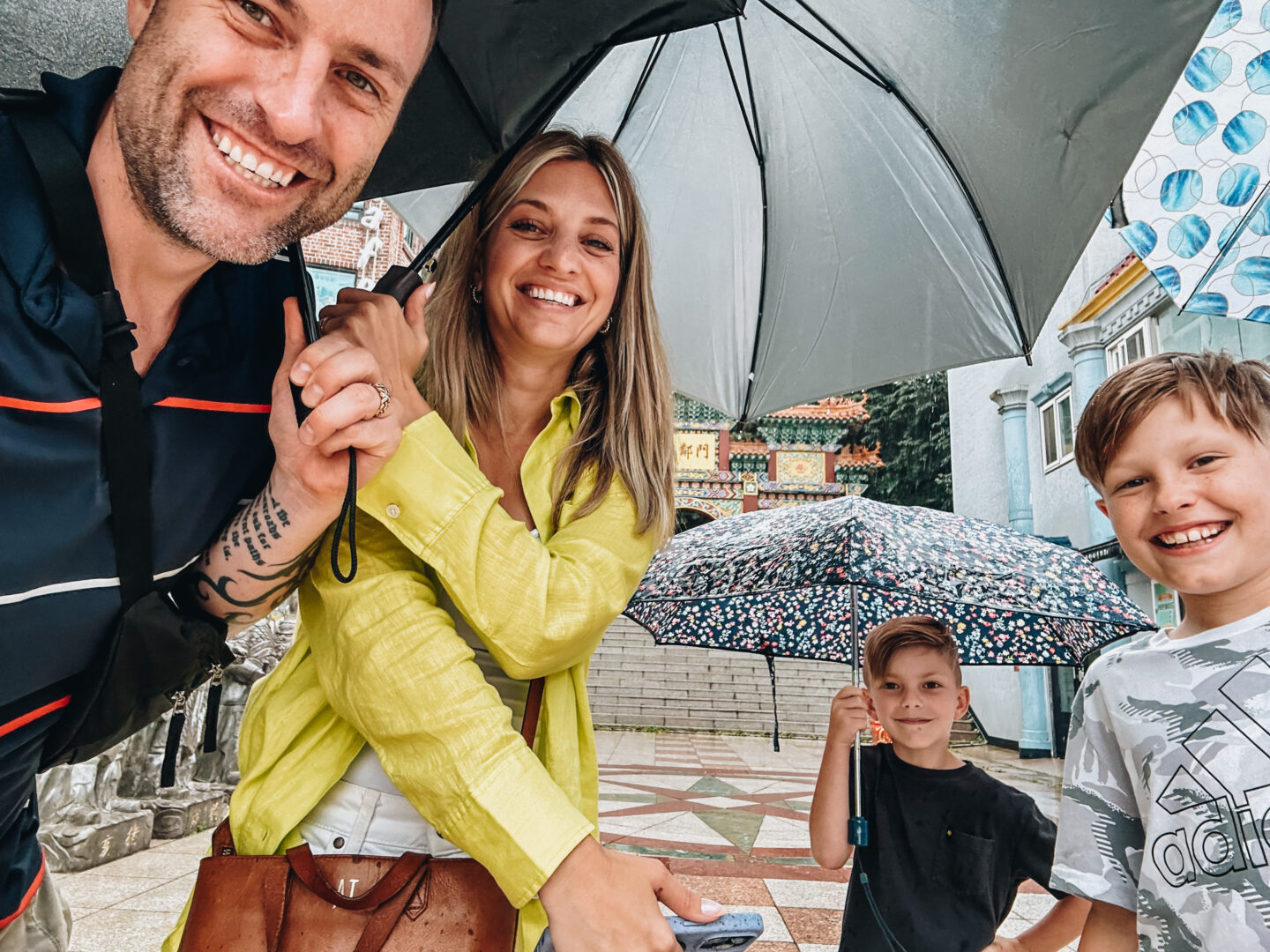 WEEK 4
We had a pre-4th of July celebration with friends at their neighborhood, which was filled with good fried chicken, a great band, a little karaoke, and drinks. We've had fried chicken a few times already, and I am definitely a fan. It's little fried boneless pieces of chicken, usually with a sweet and spicy coating. And I will probably always feel the need to say this… Everywhere else I've traveled, spicy is never spicy. But in South Korea, a little spicy is well past what I consider to be a little spicy. Spicy is spicy, like blow-fire-from-your-mouth spicy.
We spent the actual 4th of July up in Incheon (which is the town that the "Seoul" airport is in). We visited the Memorial Hall for Incheon Landing Operation. I thought they shared the information of the landing operation and the Korean War really well. It didn't take us long to get through their museum portion, and because it was raining, we didn't spend a lot of time outside the museum, but the grounds look beautiful.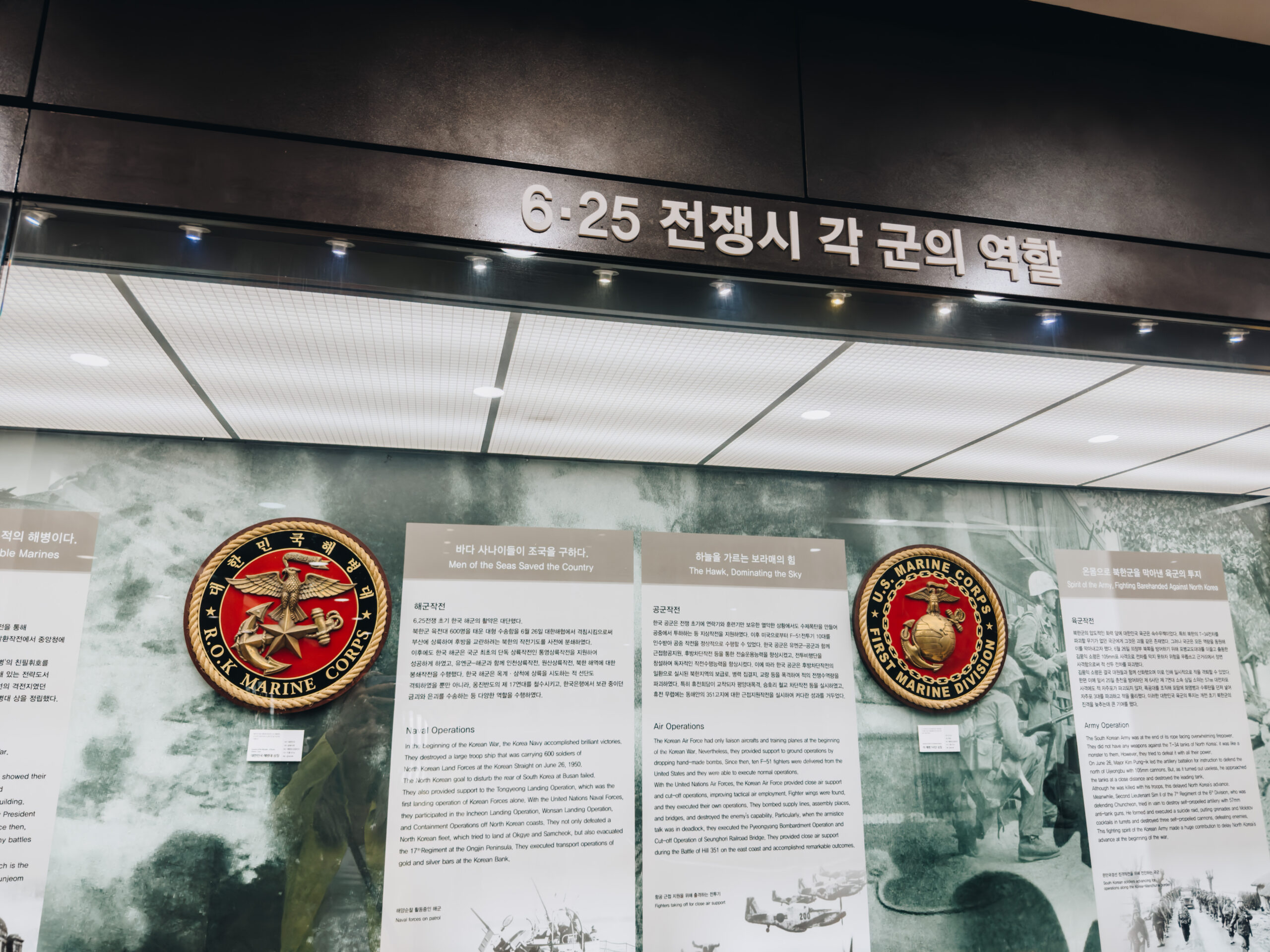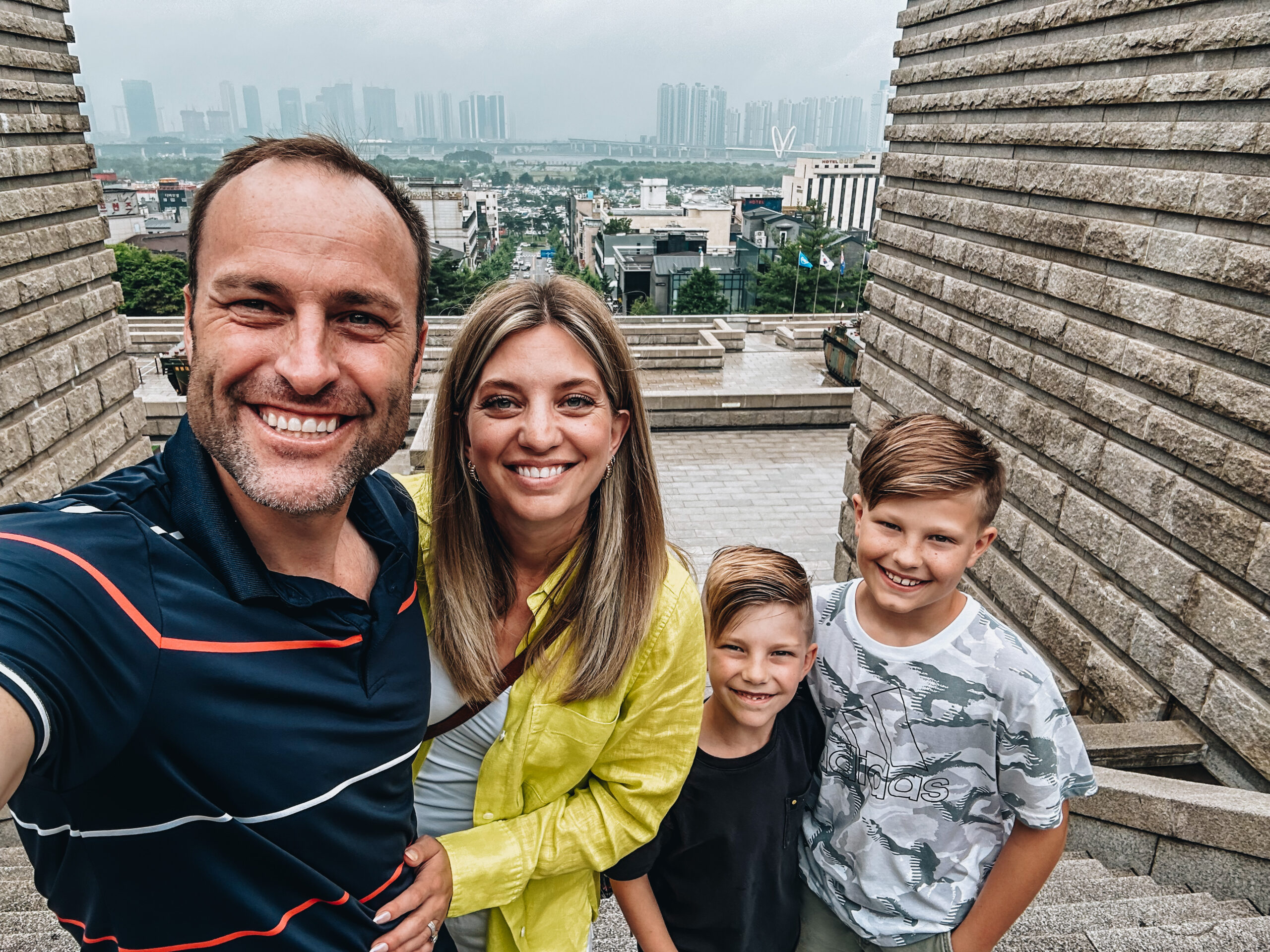 For lunch, we decided to drive over to Chinatown and brave a parking garage. I say brave because you just never know until you leave if you have the right payment available. South Korea is the only place I've been where it's difficult to have a foreign bank or credit card. There are parking garage and online websites and even store that only accept Korean cards and as a foreigner, so it's always a bit of a guess if you'll be able to pay. Today, we ended up just fine with our Visa.
We had some legit Chinese sweet and sour pork and shrimp fried rice and it was the first time we tried 단무지 – a yellow pickled radish. My youngest son has grown really fond of all the pickled radishes, and immediately loved these!
We walked the Emperor's Stairs and each took a snap beside our 'year of' animal. I'm sure when it's not down pouring, it's a beautiful park. In search of something sweet, I was determined to find Tanghulu 탕후루 – a Chinese snack that is fruit on a skewer that's been dipped in boiled sugar creating a hard, crunchy shell.  And we found it, and it was everything I wanted it to be!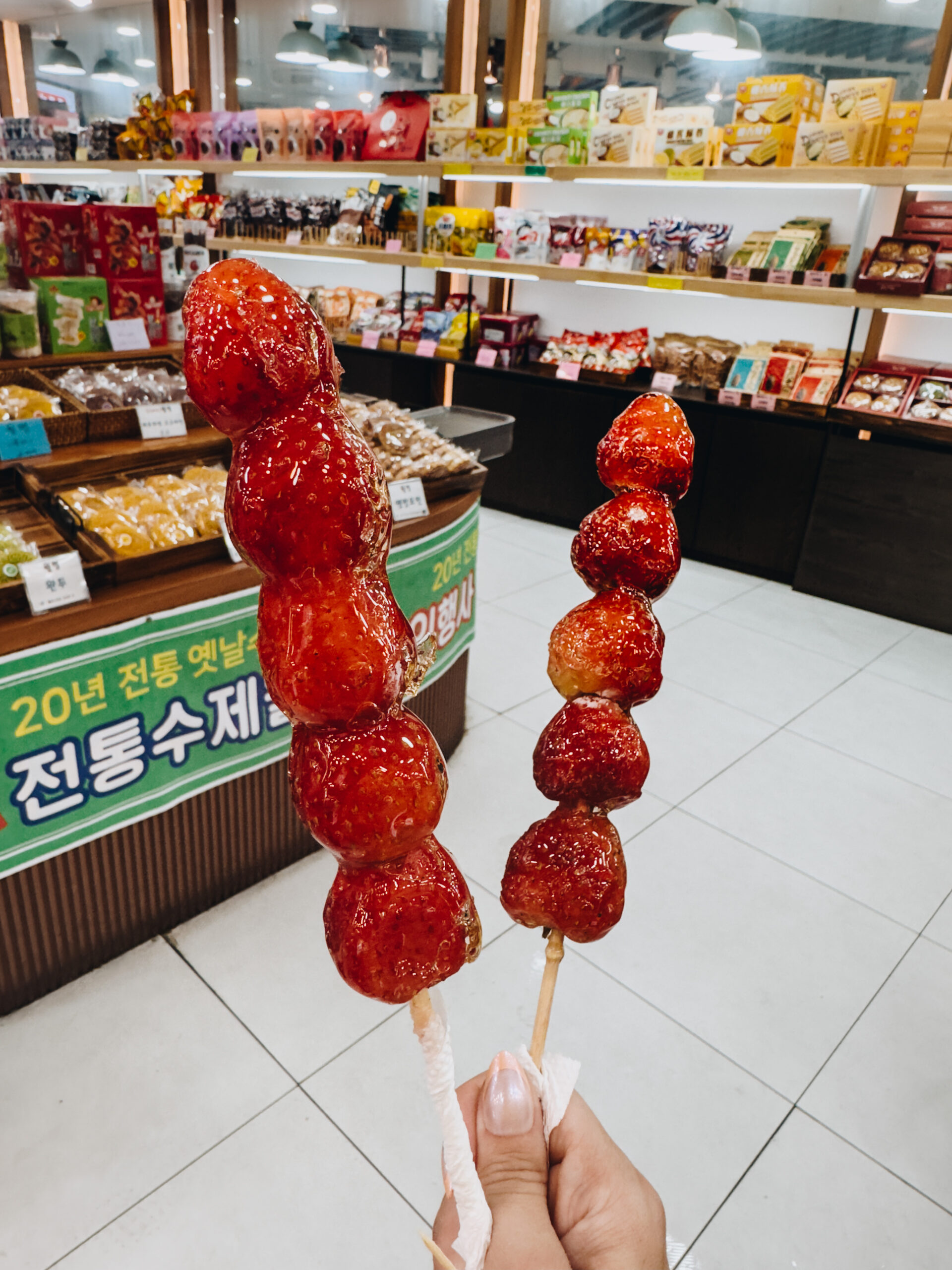 We finished the week getting our UAB (Unaccompanied Baggage – the smaller shipment, usually under 1000pounds that fits into one crate)! I was most excited to see if the bottles of wine I hid made it, which they did. After a month without it, it was nice to see some of our things.
WEEK 5
Both of the boys have been in swimming lessons; it was one of the first things we did when we got here. For Ajax, it's been reintroducing him to the strokes he hasn't been able to practice in Germany. The coach here is amazing, and I already see Ajax's swimming Olympic future. I jest, but he's really such a fish. For Breck, it is the summer of don't drown. It's been the longest road for this kid to be safe in the water, but having had tubes for six years, he just refused to put his head in the water – which I can understand. But now that his tubes are gone, we've decided that this is the time for him to learn to not drown in the water. And B totally agrees! He will just learn freestyle and backstroke instead of survival. I am actually really proud of him! Watching him struggle, but gain confidence has been awesome. He's going to get it!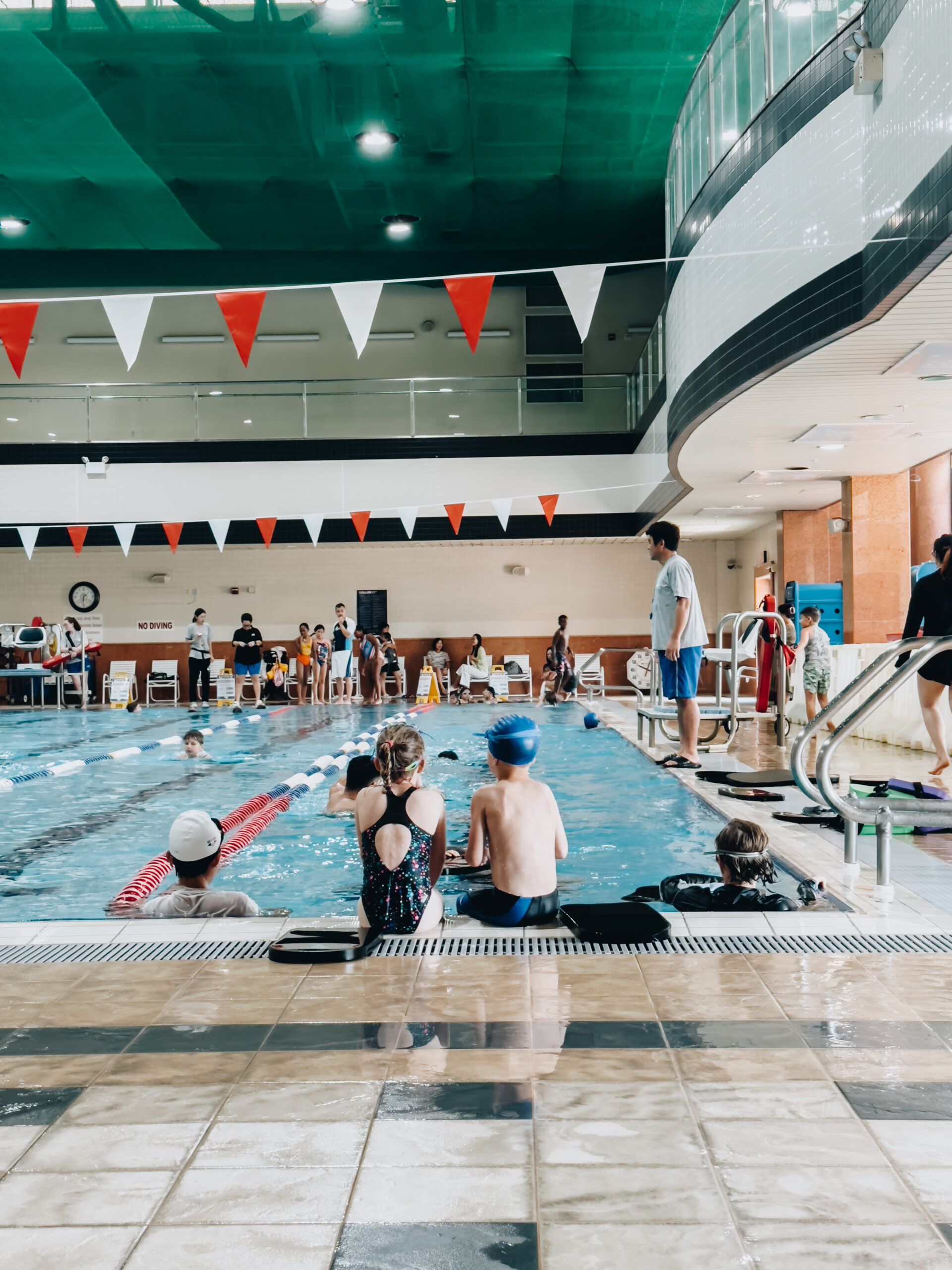 And then, in a completely surprise, we were told that our HHG (Household Goods – the rest of the things we sent to Korea) would be delivered! By the end of the week, we had ALL of our household items we shipped, but ironically, not one car. We shipped ourselves both our of cars, and until either one showed up, we were left with renting a car. It gave us the chance to drive around a Kia sedan, and I kinda loved it!
We also had our first guest, and we LOVED it! My husband's best friend from high school was in-town due to work, and we were able to spend a few days together. We drove up to Seoul to scoop him up, eat dinner at the Myeongdong Night Market where I tried tteokbokki for the first time. I loved the texture of the rice noodles but the spice was a bit more than I could handle. I am on the hunt for cheesy tteokbokki!! We also had fried chicken, dumplings and found more Tanghulu too.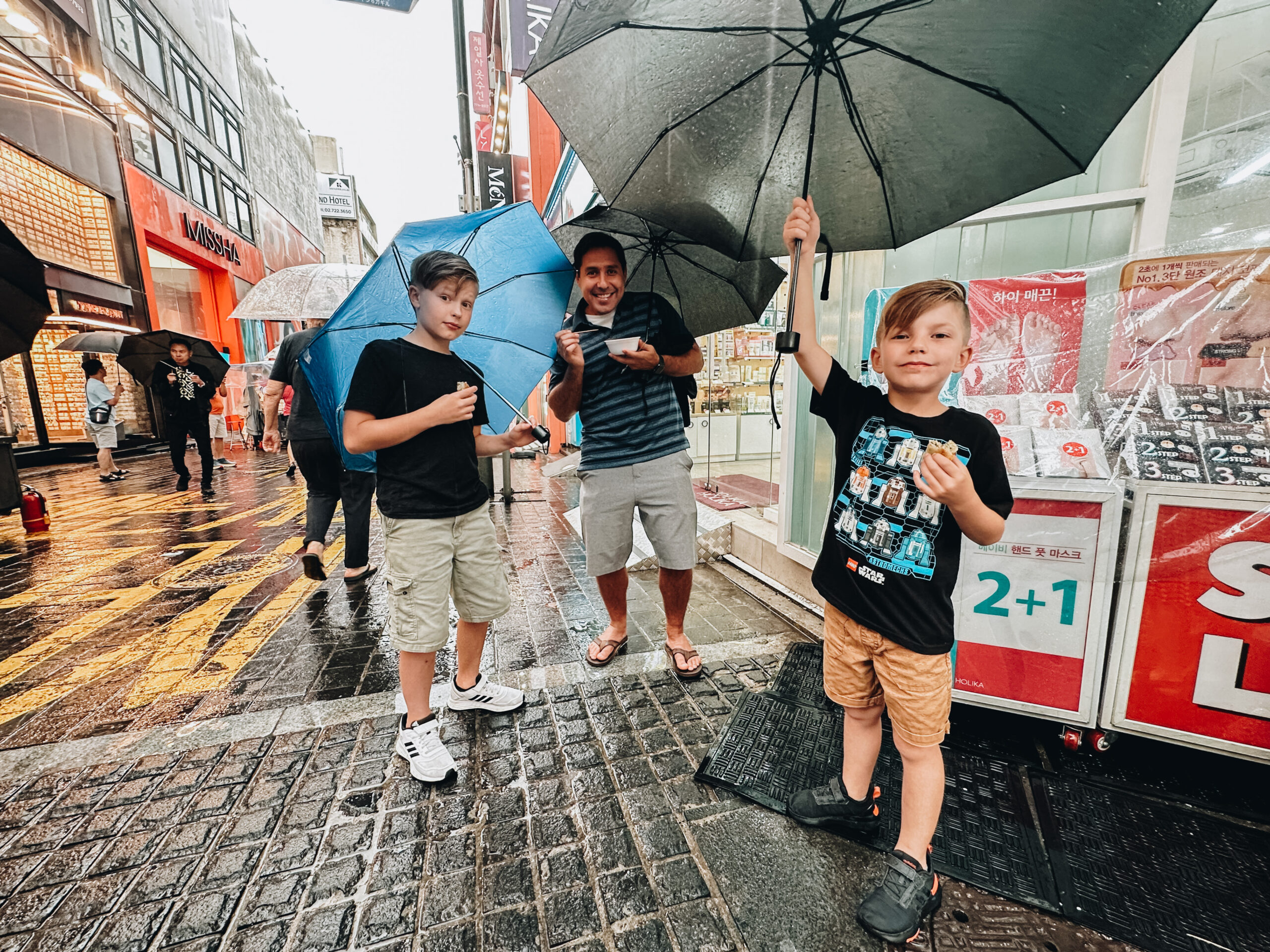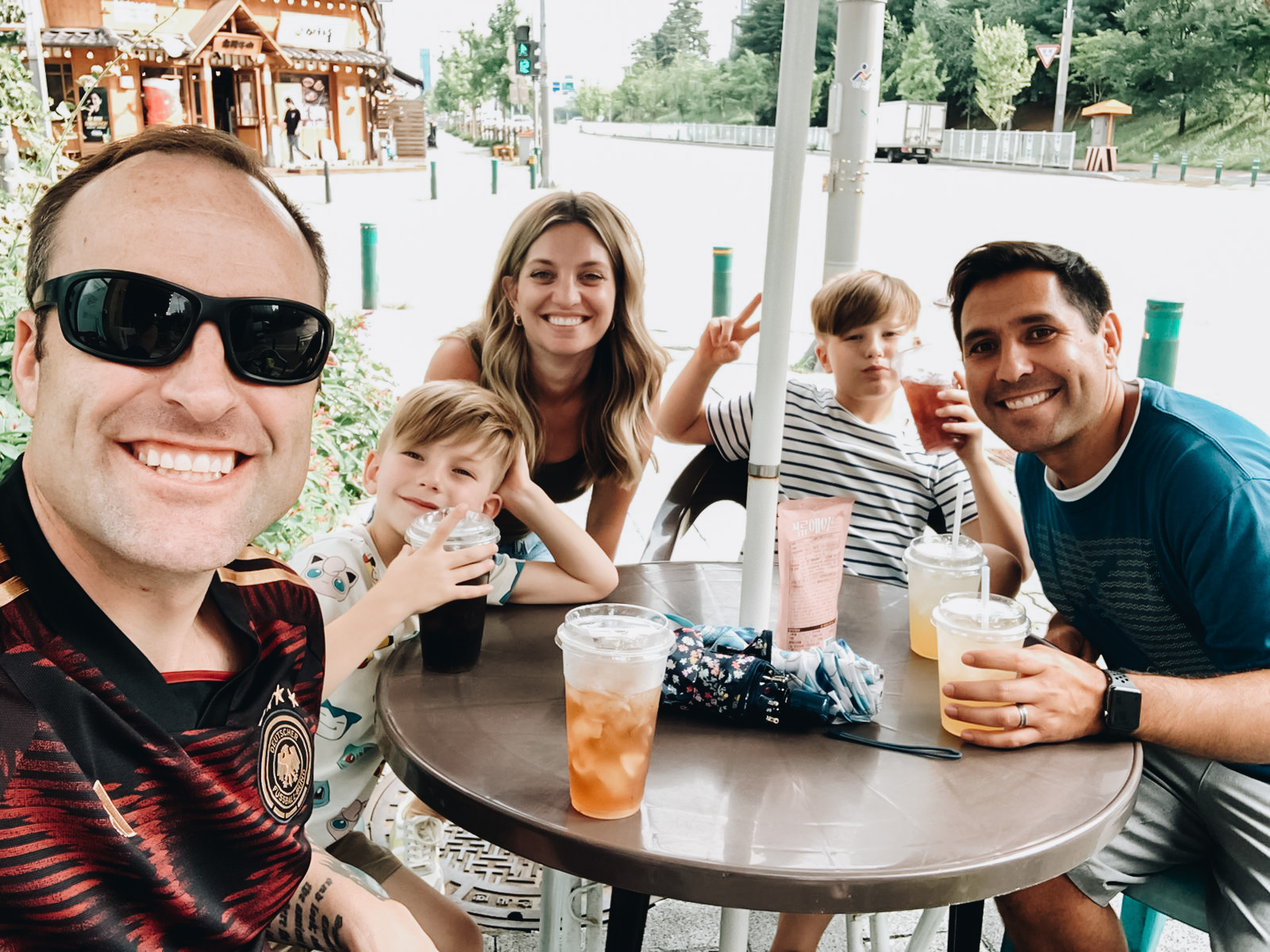 WEEK 6
We spent the week trying to get all our stuff put into our house…We're still working on it; we're about half-way through all our rooms. When you've moved with the same stuff a couple of times, it does make it a bit easier to know where to put it. But we were also in Germany for three years (which is the longest we've lived anywhere since 2018, when we lived in Colorado for three and a half years), so there were some feelings of it all being new and overwhelming when trying decide where things went. I also channel Monica, and really want to find perfect places for everything.
I did get our Article couch cleaned for the first time, and gross. It definitely needed it.
A house tour will come shortly, if only to share the unique, Korean things that are this house.
We were able to pick up Heidi!!! It wasn't the easiest process – we privately shipped our car to South Korea – but we figured it out, and got snacks at a GS25, which is a win for everyone despite the hours spent waiting.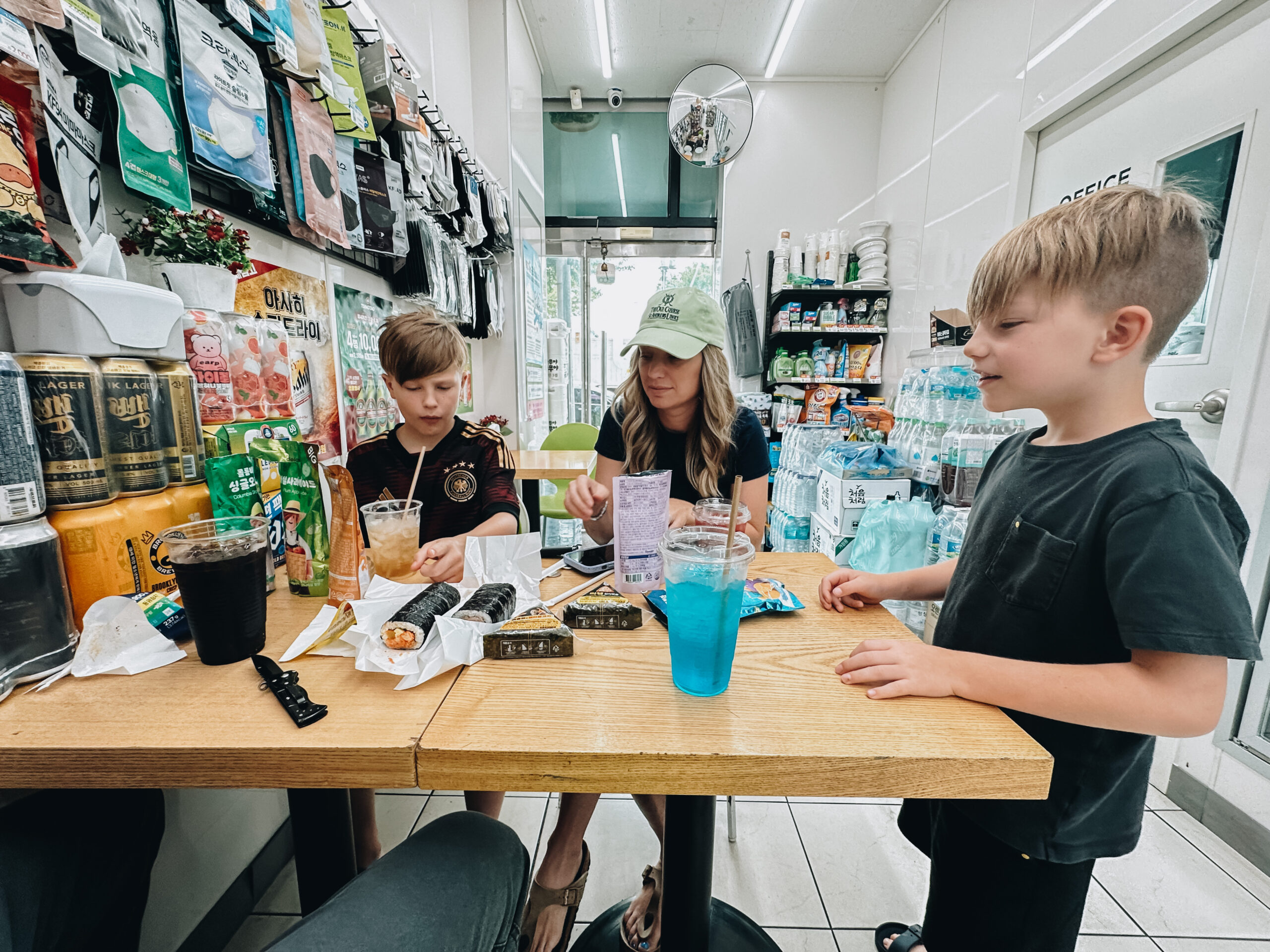 We celebrated the second of the 'Three Dog Days of Summer' and had ginseng chicken soup. I loved the soup and it won't be the last time we eat samgyetang. But I've decided that Bibimbap is my favorite. I had it again at a little snack shop, and everything about this one was perfect. The egg, the warm spice, the crunchy fried rice on the bottom… Give me all the bibimbap!
During all of these three weeks, my introverted self has been in the forefront. I have LOVED being in our house, even being stuck here when the husband took the car to work. I don't know if it was the move and or the amount of give I gave at our previous location  – the volunteer hours and social requirements – but my body has wanted to hibernate. Ironically, these feelings have come at the same time as the monsoons! And aside from having to shopvac water out our triple-paned windows, the fact that the sky is literally dumping buckets and buckets of water has made it easy on my soul to rest. Can you change from and extrovert to an introvert?!?! Only in South Korea??