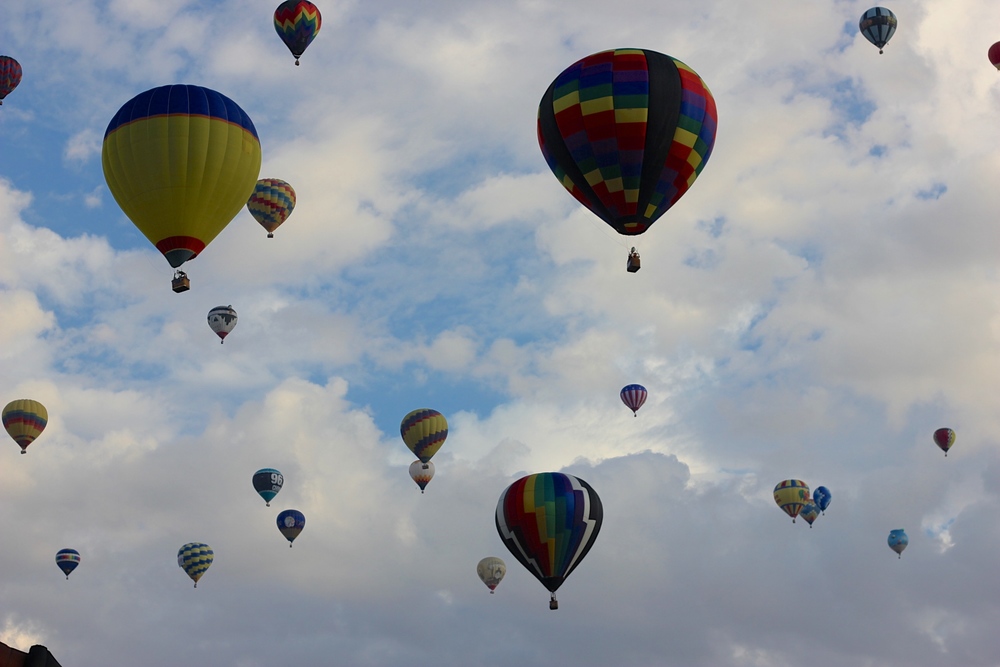 We did it! We made it to the Albuquerque International Balloon Fiesta! If you didn't know, with almost 600 balloons, it is the largest ballooning event and the most photographed event on earth. It's a pretty big deal. I don't know that I ever stopped oohing and aawwing over all the different balloons! I also couldn't stop taking pictures… even though I'm not sure that the pictures can accurately describe what it felt like being there.
A little recap of our trip to see all the balloons (if you were to head that way some year – or this weekend!)
We took a bus instead of driving to the grounds; great for the way there. It was a little rough (and long) getting back on the bus.
It was actually WARM! Everyone who had gone kept telling me that it was going to be so cold, but it wasn't! It was perfect weather.
We didn't make it back for the balloon glow (we grabbed dinner with family instead) because preggo me was a little wiped out from the morning – BUT all the natives of ABQ tell me it's pretty awesome to see!
One of those mini hot air balloon balloons totally came home with us, and I might love it more than Ajax
I was a little worried about what shoes to wear (I had heard it was muddy) so I went with my black slip-on sneakers and they were perfect!
Overall, I was not disappointed. It was stunningly beautiful and I'm SO glad we got the chance to go see the fiesta! And, all the amazing green chilis we got to eat was a big bonus! I'm still just dabbling in the super hot and spicy stuff, but I love the taste of green chili and there's no better place to get it than New Mexico!!